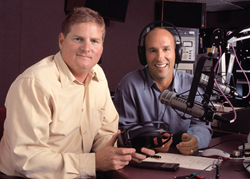 Sacramento, Ca (PRWEB) August 27, 2014
Scott T. Hanson and Patrick McClain, principals of Hanson McClain Advisors, a Sacramento-based independent wealth advisory firm with advisors in several states, have again been named to Barron's—one of the most respected financial news outlets in the world—list of the Top 100 Independent Wealth Advisors in America.
The Barron's Top 100 rankings are based on data from more than 4,000 independent wealth advisors, which considered factors such as client retention rates, assets under management, the overall quality of the practice and regulatory record. It's the 4th year in a row for Scott Hanson, and the 3rd successive year for Patrick McClain.
"Any time we receive recognition of this magnitude, while Pat and I are the ones who are honored, more than anything, it's actually a tribute to the hard work, dedication and sacrifice of all the members of our organization," said Scott Hanson.
"Barron's goal in publishing its rankings is to shine a spotlight on the best advisors," said Ed Finn, Editor and President of Barron's, "with an eye toward raising standards in the industry. The rankings serve two types of Barron's readers. For wealth management professionals, who comprise about one-quarter of our readership, they serve as an industry scorecard. For individual investors, who make up about three-quarters of our readership, our advisor rankings are a tool to help them in the process of finding financial guidance."
Founded in 1921, Barron's is a registered trademark of Dow Jones & Company, L.P. All rights reserved.
About Hanson McClain Advisors
Founded by Scott T. Hanson and Patrick McClain in 1993,Hanson McClain is a Sacramento-based independent investment advisory firm with over $2 billion under administration.