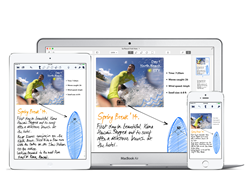 San Francisco, California (PRWEB) August 28, 2014
Ginger Labs today announced the release of Notability on Mac - a powerful note-taker to annotate documents, record lectures, sketch ideas, and more. In combination with Notability for iPhone and iPad, the Mac version provides the first full-featured note-taker for all Apple devices. With built-in iCloud support, your notes automatically sync across your Mac, iPhone or iPad, enabling you to access and edit notes anytime, anywhere.
Notability for Mac was specifically designed to increase the productivity and effectiveness of business professionals, teachers and students. People can quickly combine text, handwriting, highlighting, audio recordings and photos to create memorable notes on the Mac. Later, these notes can be reviewed and edited on iPhone and iPad. This ability to edit and review any of your notes on any device is magical.
"We are very excited to introduce Notability on Mac. Our iPad and iPhone users will find it instantly familiar and will love having all of their notes on their Mac, thanks to iCloud. And new users will enjoy the simplicity and power of Notability on Mac," says Fred Mitchell, CEO of Ginger Labs.
Notability helps people work more efficiently. Users can craft reports and outlines using the full text editor. They can easily annotate PDFs and slide decks using text boxes to capture thoughts while highlighting key sections. Forms can be filled out and signed directly on the Mac. Collect research quickly on the Mac and review it later on iPhone and iPad. Your notes are always available when you need them.
Like Notability on iPad and iPhone, notes on Mac can be easily organized by subject. On Mac, simply drag and drop PDFs, slide decks, presentations and forms straight into to Notability. By providing a single place to create, review, and organize information, Notability brings simplicity to peoples' lives.
Notability for Mac is available on the Mac App Store.
Notability® is a registered trademark of Ginger Labs, Inc. Mac®, iPad®, iPhone®, and iCloud® are registered trademarks of Apple, Inc.