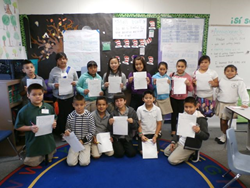 San Jose, California (PRWEB) August 27, 2014
Alum Rock Union Elementary School District has augmented its successful partnership with THINK Together, California's largest non-profit provider of expanded learning programs, to deliver an innovative summer learning program that recently served 240 students at Cesar Chavez Elementary School in the Mayfair neighborhood of East San Jose. The program, which operated four days per week for four hours per day from June 24 to July 24, provided high-need students with the opportunity to improve their reading skills, while enjoying fun activities in a summer day camp atmosphere.
"The goal of the program was to bolster the academic performance of third, fourth and fifth graders who are not reading at grade level by engaging them in fun and relevant activities aligned with Common Core State Standards," says Jimmy Lopez, Coordinator of State and Federal Programs for Alum Rock School District.
Participating students were tested at the beginning and again at the end of the program, utilizing the San Diego Quick Assessment of Reading Ability, which measures the recognition of words out of context. 97% of the students maintained or improved their performance level; with 55% scoring at least one grade level higher in the post-test. These results provide tangible evidence that programs like this one can prevent "summer learning loss," a phenomenon that disproportionately affects students living in under-resourced communities.
The National Summer Learning Association cites "more than half of the achievement gap between lower- and higher-income youth can be explained by unequal access to summer learning opportunities." Additionally, societal problems such as childhood obesity and juvenile crime can be exacerbated by a lack of productive activities during the summer months.
The program employed ten Alum Rock credentialed teachers and twelve THINK Together staff members to maintain a student to staff ratio of 11:1 during instructional time and 20:1 during the enrichment component, which included STEM (science, technology, engineering and math) activities, and structured physical activities. The instructional component was designed by THINK Together's curriculum development team and used "close reading" strategies to improve fluency and comprehension. "The lesson plans were inspired by Dr. Seuss' 'Oh, the Places You'll Go' and gave students the opportunity to virtually visit the countries of Brazil, China, Australia and Greece," said Dr. CynDee Zandes, THINK Together's Chief Program Officer. "Students learned about the culture and customs of each country through hands-on, minds-on activities that complemented the reading passages with thematic arts and science projects."
Alum Rock is one of a small cadre of forward-thinking districts allocating Local Control Funding Formula funds to pay for such services, recognizing the value of summer learning as a means toward increasing and improving services for high-need students.
Randy Barth, THINK Together's Founder and CEO, hopes that many more districts will follow suit, and that the summer program can be expanded in 2015 to serve even more students. "As we enter a new era of local control over school finances, I believe we will see summer learning emerge as a funding priority," he said. THINK Together currently provides academically oriented after-school programs at eight other schools within the Alum Rock School District.
On June 20, First Lady Michelle Obama extolled the benefits of these programs at the National Summer Learning Day event in Washington, D.C., saying "…if you want to go to college, if you want to get a good job, if you want to make the most of your potential, then summer can't just be a vacation."
About Alum Rock Union School District
The Alum Rock Union School District operates eighteen elementary schools and seven middle schools, totaling a student population of 11,300. Serving the ethnically and economically diverse community of East San Jose, Alum Rock is a family-oriented district deeply committed to meeting the many needs of its students and families. Over the past several years, Alum Rock Union School District has earned a reputation for innovation and investment, both in its infrastructure and student and teacher resources. As a result, the district has transformed numerous once poorly performing schools into models of student achievement and learning. The success of this effort is exhibited in the districts rapidly improving API scores and its ability to narrow the achievement gap in a district with a significant population of English Learners and low-income immigrant families. For more information, visit http://www.arusd.org.
About THINK Together
THINK Together is a nonprofit organization collaborating with communities, parents and other stakeholders to transform and galvanize the K-12 educational system, creating excellence and equity for all kids. We Teach, Help, Inspire and Nurture Kids to reach their full potential. It has grown into the state's largest provider of Expanded Learning Time programs (early literacy, after-school, summer learning, etc.), currently serving more than 100,000 students at more than 442 locations across 41 school districts from San Diego to Silicon Valley. Partnering with school administrators and teachers, its academic programs and dedicated team of 3,000 employees are helping students statewide. THINK is an acronym: Teaching, Helping, Inspiring & Nurturing Kids. For more information, call (888) 485-THINK or visit http://www.THINKtogether.org; http://www.facebook.com/THINKtogether.