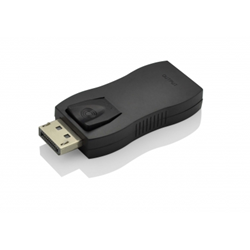 (PRWEB) August 27, 2014
The famous electronics accessory supplier Hiconn Electronics is now offering great discounts on its newly announced DisplayPort to HDMI Adapters. Before October 30, 2014, worldwide clients can seize the great opportunity to get what they need and save money at the same time.
"We are very pleased to launch the DisplayPort to HDMI Adapter promotion. Our items are of high quality and made according to the latest customer feedback. From the perspective of me as a chief executive officer, I believe they can sell well in the global market. You know, product quality is one of the decisive factors for success. Please note that the big sale will not last forever. Customers who are thinking of buying nice DisplayPort to HDMI Adapters should visit our website as soon as possible," the CEO of the company says.
Here are some detailed information about the company's 4-Ports USB 3.0 Hubs:

*Compliant with DisplayPort specification 1.1a for both 1.62 Gbps and 2.7 Gbps
*Support full DisplayPort link tracking
*Support resolutions up to 1920 x 1200 pixels and HDTV resolutions up to 1080p
*Compliant with HDMI specification up to 2.25Gbps
*Support deep sleep mode (suspend mode)
*Support VGA, SVGA, XGA, SXGA, and UXGA at 162 MHz pixel rate
*HDTV: 480i, 576i, 480p, 576p, 1080i and 1080p-
More than 500 different kinds of useful electronic accessories are offered at the company's website now. The company guarantees that each of them is quality made and come with a reasonable price. It applies strict check system from sourcing to delivery.
About Hiconn Electronics
Hiconn Electronics (Shenzhen Hiconn Electronics Co. Ltd.) is devoted to designing and manufacturing a wide range of connection cables and customized cable assemblies, offering many HDMI cables, VGA cables, SATA cables, USB cables, 1394 cables, DVI cables, SCSI (Small Computer System Interface) and more. For more information, please visit http://www.hiconn.net/.
Contact Person: James Yin (Sales Director)
Company Name: Shenzhen Hiconn Electronics Co., Ltd.
Address: Shenghua Building., Xixiang Road., Baoan District, Shenzhen, Guangdong Province, China
Zip Code: 518102
Tel: +86-755-8109 8345
Fax:+86-755-2779 3497