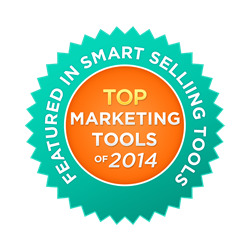 'Buyers need a short list of the smartest tools and I am pleased to announce that ConnectAndSell is included in that list as one of The Top Marketing Tools of 2014.' - Nancy Nardin, President of Smart Selling Tools
Los Gatos, CA (PRWEB) September 01, 2014
ConnectAndSell was voted one of the Top 25 Marketing Tools of 2014 by Smart Selling Tools. Click here to see the full list of companies.
According to Nancy Nardin, President of Smart Selling Tools, "The alignment of sales and marketing is proving successful in revenue achievements of many corporations. Technology is the enabler however, there are more than one-thousand possible tools for Marketers to consider. Buyers need a short list of the smartest tools and I am pleased to announce that ConnectAndSell is included in that list as one of The Top Marketing Tools of 2014."
Chad Burmeister, VP of Sales & Marketing from ConnectAndSell said, "Having been voted the #1 Service Provider of the year by the American Association of Inside Sales Professionals (for outsourced services) earlier this year and now a Top 25 Marketing Tool for 2014, we're extremely proud of the value that our customers achieve using this technology". With the latest offerings from ConnectAndSell announced in this past quarters such as Coaching as a Service and Virtual Sales Force, ConnectAndSell will continue to be a force to be reconed with and the thought leader in Advanced Sales Acceleration.
About ConnectAndSell:
ConnectAndSell has helped sales representatives at nearly 1000 companies – including hundreds of technology startups and several Fortune 500 companies – have more live B2B conversations in 90 minutes than they would otherwise achieve in an entire week. ConnectAndSells Advanced Sales Acceleration Technology enables rapid, time-compressed sales growth without adding headcount. ConnectAndSell de-risks your business against failures by enabling companies to grow revenues faster than they can add sales professionals.