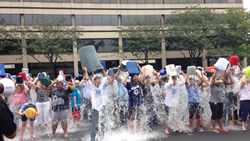 We received emails from employees thanking us, as they had lost loved ones to this hideous disease
Bala Cynwyd, PA (PRWEB) August 27, 2014
Philadelphia Insurance Companies' executive team challenged its employees to take the ALS Ice Bucket Challenge, with the incentive of donating $50 to the ALS Association for each employee who accepted the challenge. On Friday, August 22nd, 540 employees from PHLY's offices across the country filled up their buckets and dumped in the ice to answer the challenge.
"We received emails from employees thanking us, as they had lost loved ones to this hideous disease," shared President and CEO Bob O'Leary. "I am extremely grateful to our employees who took part. The Ice Bucket Challenge was a fun way to engage our employees in raising money and awareness for ALS research."
Employees in California got creative due to an extreme drought in the state. They used bird seed in place of water to comply with local restrictions. PHLY is donating $27,000 to the ALS Association for the 540 employees who took the challenge. PHLY is donating another $3,000 to the ALS Association to match contributions already made by employees to support ALS related charities.
Philadelphia Insurance has donated more than $14 million to charitable organizations and missions since 1980. To learn more about the efforts of TEAMPHLY, visit http://www.teamphly.com.
About Philadelphia Insurance:
Philadelphia Insurance Companies designs, markets, and underwrites commercial property/casualty and professional liability insurance products incorporating value added coverages and services for select industries. In operation since 1962, the Company, whose commercial lines insurance subsidiaries are rated "A++" (Superior) by A.M. Best Company and "A+" for counterparty credit and financial strength by Standard & Poor's, is nationally recognized as a member of Ward's Top 50, National Underwriter's Top 100, and one of the Top 150 Workplaces in America. Policies are underwritten by Philadelphia Indemnity Insurance Company. The organization has 49 offices strategically located across the United States to provide superior service. For more information, please visit http://www.PHLY.com.