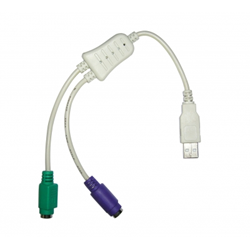 (PRWEB) August 28, 2014
Recently, Hiconn Electronics, a famous brand of high end electronic devices, has released its new range of USB 2.0 to PS2 Converters. Apart from that, the CEO of the company has stated that all these items are now offered with great discounts, up to 30% off.
"All new and old clients can enjoy a discounted price before the end of this month. I am proud to say that a lot of the international customers are very satisfied with our top quality converters. Not only do we have some of the most advanced mechanical equipment, we also have a team of experienced designers. Their rich experience and vast knowledge allow them to create what customers actually need," the CEO says.
The detailed information about the company's USB 2.0 to PS2 Converters are as follows:

Support two PS/2 devices (Keyboard/Mouse/Touchpad/Keypad, etc.) and convert to the USB Interface
Support different language or standard keyboard, included in English, --Germany, Japanese, Chinese, etc.
Easy to install
No software driver needed
No power adapter is needed
Complies to USB 1.0/1.1/2.0 Specifications
Support UHCI and OHCI USB Interface
Y Cable Length: USB End 2 inches, PS/2 End 2 inches
Compatible with Windows 98SE, ME, 2000, XP, Vista, Linux and Mac --OS9.0/OSX
BEIGE color
In addition, the officials of Hiconn Electronics have made the decision to create more high end products because of the great demand in the current market. Up to now, it has gained thousands of positive reviews from the global clients.
About Hiconn Electronics
Hiconn Electronics (Shenzhen Hiconn Electronics Co. Ltd.) is devoted to designing and manufacturing a wide range of connection cables and customized cable assemblies, offering many HDMI cables, VGA cables, SATA cables, USB cables, 1394 cables, DVI cables, SCSI (Small Computer System Interface) and more. For more information, please visit http://www.hiconn.net/.
Contact Person: James Yin (Sales Director)
Company Name: Shenzhen Hiconn Electronics Co., Ltd.
Address: Shenghua Building., Xixiang Road., Baoan District, Shenzhen, Guangdong Province, China
Zip Code: 518102
Tel: +86-755-8109 8345
Fax: +86-755-2779 3497