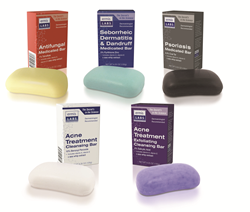 People always want something to wash with," says a visiting dermatologist.
Annapolis, MD (PRWEB) August 27, 2014
Dermatologists visited the Ermis Labs booth with great excitement to see and feel the new medicated bars. They were very happy to see the bars come back into dermatology.
The bars include a 2% Pyrithione Zinc Seborrheic Dermatitis & Dandruff Treatment Bar, a 2% Salicylic Acne Treatment Exfoliating Cleansing Bar, a 1% Tolnaftate / 9% Sulfur Antifungal Medicated Bar, a 0.5% Coal Tar Psoriasis Medicated Bar and their 10% Benzoyl Peroxide Acne Treatment Cleansing Bar. Each bar weighs in 4.25 ounces.
All five bars are available through healthcare providers and independent pharmacies. Practitioners can advise on appropriate use for ongoing maintenance and prevention, particularly if used as adjunct therapy with prescription medications.
Each Medicated Bar shares common ingredients including Vitamin A, Vitamin E and Shea Butter. All bars are manufactured in the United States and are made to a high density to provide longevity.
Soap bars remain one of the most popular forms of cleansing worldwide and bars (as a form of delivery) have been seeing a resurgence over washes because they last longer and present a better value. For more information please reach out to Ermis Labs at 440-873-1440, email them at customerservice(at)medicatedbars(dot)com or visit on line at http://www.medicatedbars.com.