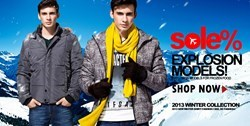 (PRWEB) August 29, 2014
Recently, Skmen.com, one of the most popular suppliers of men's and women's clothes, has revealed its unique collection of long sleeve sweater dresses and launched a site-wide promotion. At the moment, all the company's newly unveiled sweater outfits are available at discounted rates, up to 29 percent off.
As a matter of fact, Skmen.com's fashionable and quality items have greatly stimulated its business growth in the recent years. The company's experienced tailors are striving to make more incomparable products for the international consumers. To meet the specific needs of different people, almost all its products are provided in varied colours and styles.
The company promises that all its beautiful long sleeve sweater dresses are soft and comfortable. They come in many popular designs: A-line, empire, sweetheart, modest, V-neck outfits and so on. According to the company's development manager, all of them are carefully designed by experienced dress specialists that have a vast knowledge of customer needs and the latest fashion trends.
Additionally, Skmen.com is providing similar discounts on other products, including white dresses, celebrity bodycon outfits, mini party outfits, sexy casual dresses and so forth. It hopes to help worldwide ladies to be more attractive and bring more benefits to its fans. That is why its officials decided to launch the current special offer.
About Skmen.com
Skmen.com, a reliable company founded in 2009, is one of the leading suppliers of men's and women's high quality clothes. It has more than 5000 customers from every part of the world; it hopes to help worldwide stylish ladies and gentlemen. Now, it is selling thousands of fashionable items online. For more detailed information about the company and its wonderful items, readers can visit http://www.skmen.com/product-sweater-dresses-003004008.aspx.