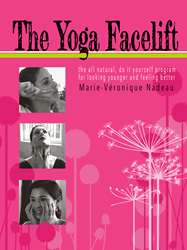 Firm the jawline, smooth the brow, and take off years.
Los Angeles, CA (PRWEB) August 27, 2014
Marie-Veronique skin care has a new look, a new store, and an upcoming line of products for sun protection and acne treatment. Located at the top of Solano Avenue in Berkeley, the store will open September 7th and will take part in the September 14th Solano stroll with an exciting set of promotions.
The Solano Stroll, sponsored by the cities of Berkeley and Albany, is the East Bay's largest street festival. Running all day the second Sunday in September, it features over 500 vendors and will welcome 250,000 guests. The first 5000 visitors to the Marie-Veronique store will receive a coupon for a free Yoga Facelift class and a special discount on the second edition of Marie's book, The Yoga Facelift.
Originally released in 2004 by Conari Press, The Yoga Facelift was updated and released as an e-book by Bitingduck Press in 2014. The new version contains the original series of head and neck exercises as well as updated sections on skin care and aging skin. A best-seller in skin care when it was released, the book targets facial muscles that sag and cause lines with groups of gentle exercises that anyone can do.
Bitingduck Press is the inventor of WebBytez, a system for selling electronic goods in physical stores in a way that allows the physical retailer to earn a part of the profit in return for displaying and promoting the product. The system works by providing the retailer with postcards with scannable QR codes; purchasers use the code to buy the product directly from the press. The code contains information telling the e-store where the postcard came from, so credit can be given to the merchant.
The postcards are free, so all visitors to the store are encouraged to take a card for any book of interest. The Marie-Veronique store will feature an assortment of Bitingduck Press titles of interest to its clientele, including health and beauty titles, popular science, and fiction. Upcoming titles include Puswhisperer (A Year in the Life of an Infectious Disease Doctor), by Mark Crislip MD, and Marie's new title, The Acne Answer.
Marie will be available both Sundays, September 7th and September 14th, to answer questions about The Yoga Facelift, and will demonstrate some exercises from the book as well.