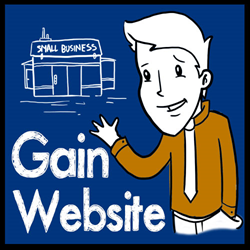 (PRWEB) August 27, 2014
The facts are inarguable, how well a company does on search engine results can make or break a business. Leaving this important concern to chance is just not acceptable. Fortunately, powerful and effective search engine optimization (SEO) doesn't have to be a bank breaker. A relatively new entree to the SEO arena, is GainWebsite.com. Gain Website, after building a reputation for being a first class we design firm over the last 4 years, began offering SEO services 6 months ago and the response from clients has been wildly enthusiastic. Backed by an extraordinary guarantee, and set at a very affordable price point, it's no surprise more and more small businesses have been turning to these pro's to make sure their SEO is on point.
"When I first started out as a small business owner myself, I found SEO services to be prohibitively expensive, and no one guaranteed anything," commented Alec Shekhar, CEO of Gain Website. "I saw this as an opportunity to offer the kind of SEO product that was sorely needed in this industry."
According to the company, their SEO prices are set much, much lower than the industry norm for small businesses, which amounts to roughly 50% less than the rate of their competitors; and they also guarantee a first page ranking on Google for targeted keywords or they give a 100% refund. To the company's knowledge they are the only SEO firm in the industry to offer both a guarantee and a full refund offer backing the quality of their SEO services.
Of course, GainWebsite.com continues to offer their acclaimed website design services. With an emphasis on helping clients use their website to gain more customers, get new leads and build their business, the company offers the latest in design and execution for a smart looking, smooth and effective website. Three different packages are offered from a value website, to their "ultimate" website and, finally, a "ultimate" website with ecommerce integration. Logo design, slide shows and other graphic "hooks" are included in each of the packages, plus much, much more.
Clients have been quick to give wildly enthusiastic feedback to both sides of Gain Website's business.
Tony H., recently said in a five star review, "Alec and Gainwebsite have been great to work with for the last year. I used a few companies in the past to create and maintain my website and none of them have done what Alec has done. They have lived up to everything they said they would do, including having my website show up at the top of Google searches organically. They are never shy about giving little extra pointers to help placement and always post updated pictures I send them within a few days. I would, and have, recommended them to many friends and family. And, one last thing, they are very reasonably priced!"
For more information on the company visit http://gainwebsite.com.