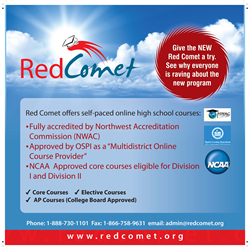 Prosser, WA (PRWEB) August 28, 2014
Red Comet introduced several new high school Advanced Placement courses that have already been approved by the College Board. For the 2014-15 school year, students may enroll in several AP courses, including Art History, Calculus, Computer Science A, English Literature & Composition, Human Geography, Macroeconomics, Microeconomics, Psychology, Statistics, and US Government & Politics. These courses allow high school students to explore college-level curricula and allow them the opportunity to potentially earn college credit. By enrolling in Advanced Placement courses, students get an advantage over their peers when they attend college.
Red Comet is a Fully Accredited (NWAC, AdvancED) organization that has been offering online courses for credit since 1999. Students have over 175 courses to choose from. Many of these courses are also approved by the NCAA organization. In the State of Washington, the Office of Superintendent of Public Instruction (OSPI) has approved the Red Comet program as a "Multi-District Online Provider," "Online Course Provider," and "Online School Program". In a statewide survey, Red Comet received high ratings for student satisfaction. Students use the Red Comet online program for original credit, credit retrieval, and credit recovery.
Contact Information:
Ms. Sapna Ganeshan
President,
Red Comet
1-888-730-1101