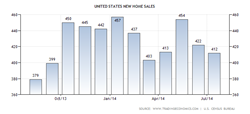 The best performing area year-to-date is San Francisco at 8.18%.
Chicago, IL (PRWEB) August 27, 2014
Lenders like Peoples Home Equity were disappointed on Monday, August 25th to see new home sales decline for the 2nd consecutive month in July. However, the negative housing data did not wane for long as on Tuesday, August 26th, the Federal Housing Finance Agency (FHFA) House Price Index grew for the 2nd consecutive month in June. Also, another positive housing announcement on Tuesday was the S&P/Case-Shiller Home Price Indices readings which showed growth in June among its 3 main composite indices.
Monday's new home sales report showed a disappointing -2.4% decline from June. This fall in sales implies that fewer existing homeowners are trading up for a new home. Less existing homes listed for sale means less used home inventory on the market. Since the market is dealing with an inventory shortage, lenders and analysts alike were looking for new home sales to rise, preferably a lot, so that that the possibility of more housing inventory increases. However, there were two points from the U.S. Census Bureau report that were uplifting. First is that while new home sales decline, new home inventory increased 4.1%. Second, new home sales for June were revised up from 406k to 422k, which means sales only fell -7% rather than -10.5% from May to June.
After the lackluster new home sales report Tuesday's data was stirring. The FHFA announced that its home price index increase by 0.4% in June. As shown on TradingEconomics.com this percentage increase was higher than the forecasted 0.24% rise.
Also on Tuesday, S&P/Case-Shiller released the results of their June home price indices. Among its main indices, S&P/Case-Shiller showed a 0.96% rise in its 20-City composite, a 0.97% rise in its 10-City composite, and a 0.90% rise in its national composite. The best performing city for June was New York at 1.58%. The best performing area year-to-date is San Francisco at 8.18%. Meanwhile Phoenix is showing a tougher time recovering as its index is up only 1.68% year-to-date. Peoples Home Equity believes Phoenix is showing a great value market while San Francisco is showing growth.
While the week began disappointing regarding new home sales, week-to-date the market is looking good again given positive news from multiple price indices. Lenders will now be waiting to see Wednesday morning's weekly mortgage application survey results.
Contact a Peoples Home Equity loan officer today at: 262-563-4026.