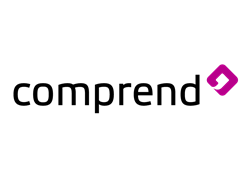 London (PRWEB) August 27, 2014
Digital corporate communications specialists KW Digital has today changed its name to Comprend, following the management buyout from King Worldwide earlier this year. Comprend helps companies in creating stronger, more engaging Digital Corporate Communications solutions.
The company has seen rapid growth in the past few years and now has more than 60 employees at offices in London and Stockholm.
"After leaving King Worldwide, it was a natural step to change names and sharpen our brand. That's why we are now creating Comprend," said Staffan Lindgren, Managing Partner Comprend.
Phil Marchant, Managing Director UK, said, "The name Comprend was chosen because it is synonymous with the concepts to understand, grasp, comprehend, perceive and include – words that are important to us in relationships with our clients and in our work to develop their corporate communications."
Comprend continues to focus on digital corporate communications in Europe and the Middle East. Some of the clients are large listed companies such as Melrose PLC, National Express, Dana Petroleum, SEB, Vattenfall, Tele2 and PostNord.
The company's annual survey of corporate communications in digital channels is now called Webranking by Comprend. This year's results of how Europe's largest companies meet the requirements of the capital market will be published later this autumn.