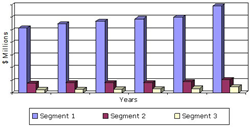 Global Market for Advanced Orthopedic Technology to Reach $42.2 Billion in 2019
Wellesley, Mass., (PRWEB) August 27, 2014
BCC Research (http://www.bccresearch.com) reveals in its new report, ADVANCED ORTHOPEDIC TECHNOLOGIES, IMPLANTS AND REGENERATIVE PRODUCTS, the global market for advanced orthopedic technology is anticipated to increase from $36.4 billion by 2014-end to $42.2 billion by 2019, with a compound annual growth rate (CAGR) of 3% from 2014 to 2019. New technologies and an increasingly older population are two of the major driving forces within the market.
While there are many conventional and generally less expensive products, new items and biotechnological advancements are beginning to revolutionize future growth of the orthopedic device market. The latest technological products are competing in a fast-track market that looks to improve the quality of life for millions of individuals who need procedures such as hip and knee transplants.
The total joint replacement, implant and regenerative product market is worth about $30.1 billion for 2014 with a CAGR of 2.7% over the forecast period, reaching $34.4 billion in 2019. The global cartilage, soft tissue repair and regenerative product market is valued at $1.8 billion for 2014; a CAGR of 6.6% is expected to drive the market to reach $2.5 billion by 2019.
"Areas such as bone-growth stimulators, synthetic bone replacements, tissue and cartilage biomaterials and spine products are positioned to show exceptional growth due to several market factors," says BCC Research healthcare market analyst Melissa Elder. "They include an aging and growing population, new technologies and increasing incidence of conditions and injuries."
Ongoing patient management studies, combined with a drive to produce technologically superior products, will increase the number of patients who can benefit from developments in the advanced orthopedic product market.
ADVANCED ORTHOPEDIC TECHNOLOGIES, IMPLANTS AND REGENERATIVE PRODUCTS provides an overview of products in the advanced orthopedics market, and offers detailed market analyses and discusses competitive environments. The study includes information about significant products and players, issues and trends, as well as other data affecting the orthopedic device industry in the next five years.
Editors and reporters who wish to speak with the analyst should contact Steven Cumming at steven.cumming(at)bccresearch(dot)com.
About BCC Research
BCC Research publishes market research reports that make organizations worldwide more profitable with intelligence that drives smart business decisions. These reports cover today's major industrial and technology sectors, including emerging markets. For more than 40 years, we have helped customers identify new market opportunities with accurate and reliable data and insight, including market sizing, forecasting, industry overviews, and identification of significant trends and key competitors. We partner with analysts who are experts in specific areas of industry and technology, providing unbiased measurements and assessments of global markets. Our clients include the top companies in industries around the world as well as universities, business schools, start-ups, consulting firms and investment companies. BCC Research is a unit of Eli Research LLC. Visit our website at http://www.bccresearch.com. Contact us: (+1) 781-489-7301 (U.S. Eastern Time), or E-mail information(at)bccresearch(dot)com.
Data and analysis extracted from this press release must be accompanied by a statement identifying BCC Research LLC, 49-2 Walnut Park, Wellesley, MA 02481, Telephone: (+1) 781-489-7301; E-mail: editor(at)bccresearch(dot)com as the source and publisher. Thank you.