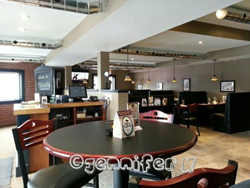 Quick Ship Booths are made in the USA & can be delivered in 7-10 days.
Orangeville, ON (PRWEB) August 27, 2014
Restaurant Furniture Canada recently proved why it's Canada's leading manufacturer and distributor by teaming up with Mill Creek Pub and providing commercial chairs, bar stools, restaurant booths and table tops.
Mill Creek Pub is located in Orangeville, Ontario. The venue had houses a series of unsuccessful bar and pub style restaurants but was originally the Coca Cola bottling plant for that area of Ontario. The pub has a lounge and bar area with ample bar style and booth seating. There are many large screen HD televisions playing sports. The bar has 19 draft beers on tap with a mix of imports, domestic and Ontario craft brewers.
The pub has a large three tiered patio which is open during the summer and when the weather is warm. The patio seats 100 – 150 and has a great view of a quite creek and distant neighborhood area. In addition there is also a full dining room upstairs.
The owner heard about Restaurant Furniture Canada's reputation for stylish, well-built commercial furniture and excellent customer service. He opted to go with Interchangeable Back Metal Chair with Slats & Circle and matching bar stools. He chose the black frame with the mahogany finish for the wood back and seat. The frame also comes in gold, copper vein, gold vein and silver vein. The solid wood saddle seat also comes in dark mahogany, walnut, cherry and mahogany finishes. Customers can also choose a padded seat made of vinyl or fabric.
The Interchangeable Back Metal Chair with Slats & Circle is an attractive chair and a good choice for restaurant owners who want the sturdiness and durability of metal but also the beauty of wood. These chairs are fashionable enough to fit in any dining establishment and are strong enough for high traffic use in places such as bar and pubs. They currently sell on Restaurant Furniture Canada's website for only $57. The Interchangeable Back Metal Bar Stool with Slats & Circles sells for $79.
For additional seating he also bought Restaurant Furniture Canada's Quick Ship 6 Channel Booth. The booths are made in the USA and can be delivered in 7 – 10 days. The booths come in black and wine and sell for $270. The double booth sells for $365. Restaurant Furniture Canada has is a leading manufacturer of restaurant booths and has a wide selection to choose from. Booths can also be custom made in any shape or size out of any material for an additional cost.
For the tables he chose Laminate Inlay Table Tops with Wood Edge in black and walnut finish. The tables start at $147. They came in square, round or rectangular shapes in a wide variety of size. The edge comes in 5 different finishes or a custom finish can be made for an additional cost.
To browse Restaurant Furniture Canada's full selection of chairs, bar stools, table tops, table bases, booths and patio furniture visit http://www.restaurant-furniture.ca/ or talk to a customer service representative at (888) 998-4222 for answers to all your questions on restaurant furniture.
Mill Creek Pub is located at 25 Mill St. in Orangeville, ON. They can be contacted at (519) 307-5700.