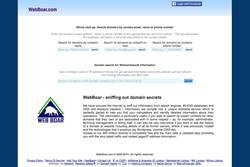 WebBoar Launches First Free Internet-wide 'Whois' Lookup Facility
(PRWEB) August 28, 2014
Webboar.com, the major website information provider has launched the first free, Internet – wide 'WHOIS' lookup facility. This provides comprehensive information on over 300 million websites detailing information relating to website owners, administrators and technical staff. By using this facility searchers can find all the websites linked to a particular contact using their name, phone or email details.
Current WHOIS lookup tends to be cumbersome and only provides details on existing ownerships and contacts; the new webboar.com service includes historical WHOIS data so users can track ownership of, and relationships to, sites back through time. This can prove especially useful in tracking cybercrime and online fraud and webboar is the only service that offers this feature without charging.
WHOIS information is also an important feature for online businesses and can be helpful in tracking competitors' interests and activities and indicating the extent of website ownership or association. The provision of this information without a fee or subscription charge to customers, is a major step forward in online data search and provides companies with potentially valuable information about the area they work in and other businesses with similar interests or locations.
"We believe the technology behind the WHOIS search facility innovation – and indeed the whole webboar.com service – is at the cutting edge of search provision and we continue to strive for excellence in providing our users with the most comprehensive and up-to-date search service possible," says webboar.com founder Eugene Blagodarny. "The fact we provide this free of charge is good news for users and healthy for the internet universe generally," he continued.
Webboar.com already offers users a comprehensive and detailed information search which provides information on all the domains hosted at an IP address, backlink and outbound link stats, visitor geography, search queries, screenshot history, physical server location and other hosting information. The launch of this new service further enhances the webboar.com experience as the most comprehensive – and accessible - online search facility freely available on the worldwide web.