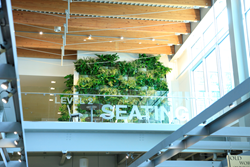 This vertical garden is unique, as it will showcase an unusually broad array of plant material.
Grand Rapids, MI (PRWEB) August 28, 2014
Following closely on the heels of the recent LEED Gold certification, the Grand Rapids Downtown Market is becoming even greener. The Downtown Market added a 202-square-foot indoor living wall this week, installed by local manufacturer LiveWall, LLC. The new addition adds more than 100 new plants to the second floor atrium across from the teaching kitchen and complements the outdoor living walls and the upstairs greenhouse space.
"Like our outdoor green walls, which help cool the building, serve as vertical garden spaces and restore lost habitat, the indoor LiveWall will benefit our visitors and staff," said Claire Duthler, Downtown Market's leasing and special events coordinator. "The wall provides oxygen and humidification, reduces airborne pollutants and improves our indoor space, environmentally, psychologically and physically. When people are surrounded by nature, they feel more contented, creative, happy and healthy."
LiveWall, LLC is partnering with the Downtown Market, to help broaden their portfolio of design concepts by testing different display plants and planting patterns, and to increase the vertical green space inside the Market Hall. LiveWall also planned and planted the outdoor vertical walls, as well as the LiveRoof system at the Downtown Market.
"Over the next few years, we'll use the wall to educate designers and architects in the pairing of plants in our living wall system," said Dave MacKenzie, LiveWall, LLC president. "This vertical garden is unique, as it will showcase an unusually broad array of plant material. Our initial planting is naturalistic with rich-leaved tropical species, but I anticipate a seasonal display of poinsettias, and some really unique plants and patterns in the future."
About LiveWall
Based in Spring Lake, Michigan, LiveWall®, LLC (livewall.com) is the top horticultural science company in the planted wall industry. Exceptional in design and function, the LiveWall System is manufactured in West Michigan and offers the most effective horticultural solution for vegetated walls. For more information, please contact Mike Haynes at 616-935-1974.
About the Grand Rapids Downtown Market
The Grand Rapids Downtown Market is the region's new choice for fresh, delicious foods and amazing public market merchants. The Market is a $30 million, self-sustaining, LEED-certified, mixed-use facility that brings together production, distribution, marketing and education about local foods and growing. It incorporates entrepreneur and experimentation space for both emerging and experienced food artisans and merchants including a 24-vendor Market Hall, large outdoor farmer's market and two full-service restaurants coming soon, one of which will be a micro-brewery. More at http://www.downtownmarketgr.com.