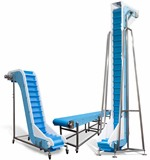 Muskegon, Michigan (PRWEB) August 28, 2014
Dynamic Conveyor Corporation, the leading manufacturer of easy to clean conveyor systems for the food industry, now offers a variety of solid surface belting on its DynaClean™ food conveyor line.
In addition to plastic link style belting, the DynaClean conveyor line now offers the option for the several styles of ThermoDrive solid surface belting. Styles include traditional flat top, embedded diamond, nub top and 90o, 75o and scoop drive flights. The thermoplastic solid surface belt is an innovative, patented technology that is the first to combine the best features of modular plastic link style and traditional flat belts.
ThermoDrive solid surface belts are homogeneous thermoplastic with 100% closed surfaces, making them well suited for hygienic food-processing applications. At first glance, they may appear to be traditional flat belts. What makes them significantly better is the patented ThermoDrive positive drive system. Unlike traditional flat belts, these belts drive on sprockets like a modular plastic belt and are not under tension, enabling easy lifting for food conveyor cleaning and solving nearly all traditional flat belt problems.
ThermoDrive belts are ideal for specific food conveyor applications where a 100% closed surface is required. DynaClean food processing conveyor applications that require extremely high sanitation, frequent cleaning, or use a scraper to remove product from the belt all benefit from ThermoDrive technology.
The key advantages of using ThermoDrive technology with the DynaClean easy to clean conveyor systems includes:
Sanitation -- The simple geometry of ThermoDrive belts speeds and simplifies cleaning and sanitation while saving money. Belt removal is often eliminated and is easy when necessary. Belt soaking is never required.
Maintenance -- The patented, no-pretension ThermoDrive drive system eliminates the tensioning, tracking, and cleanability problems of traditional flat belts. The belt is light and easy to install.
Quality -- ThermoDrive belts enable reliable swab tests. They maintain very low bacteria counts during production, helping to increase shelf life. There are no frayed belt edges or small pieces to contaminate product.
Production -- The 100% closed belt surface enables scraping, prevents loss of liquid, and eliminates small bits of product getting stuck in the belt, improving product yield.
DynaClean easy to clean conveyor systems are custom designed and built to meet NSF, FDA, USDA and BISCC standards. Food conveyor systems can be designed, configured and reconfigured to include horizontal and multiple angle options such as 30°, 45° and 90°. The opportunity for ThermoDrive belting expands the customization and options available with the design of the DynaClean food processing conveyor.
For more information about DynaClean food conveyor systems with ThermoDrive belting, contact Dynamic Conveyor Corporation, 5980 Grand Haven Road, Muskegon, MI 49441; phone (800) 640-6850; or visit the web site http://www.DynamicConveyor.com.