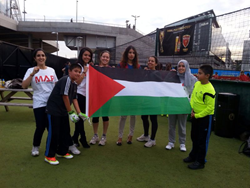 It means a lot to our team in Gaza when they hear of People in the UK are doing so much to help. So a big Thank you to everyone at Duncan Lewis for making this happen
London, United Kingdom (PRWEB UK) 28 August 2014
Legal 500 recommended Legal Aid firm Duncan Lewis Solicitors raised £4,300 for the Medical Aid for Palestinians charity's Gaza Humanitarian Relief appeal with a Football Aid 5-a-side tournament at Wembley Stadium on 15th August 2014.
Duncan Lewis is the largest Civil Legal Aid provider in the UK. Some of the key areas of law that the firm specialise in are Immigration and Human Rights. With this, Duncan Lewis Solicitors are committed to "upholding the Rule of Law and the rights of vulnerable people in the UK."
The firm expressed their deep concerns at the humanitarian crisis currently happening in Gaza and announced that they will be holding a charity football tournament at Wembley Power League to raise funds for the relief effort and Humanitarian Aid for the people of Gaza in a press release on the 8th August. The firm also announced that all proceeds were to be donated to MAP, who operate a 100% donation policy.
The population of Gaza is 1.8 million. The population of Gaza live in a space the size of the Isle of Wight making it one of the most densely populated places on earth. With no safe place the entire population has been affected by the recent bombardment and more than 10,000 people need medical treatment – over 3,000 of which are children.
Medical Aid for Palestinians is on the ground coordinating aid and evacuating the severely injured.
The work of MAP would not be possible without widespread support. MAP expressed
their gratitude to the team at Duncan Lewis Solicitors for organising a "highly successful charity football tournament at Wembley stadium on Friday 15th August."
Jo O'Neil, the director of MAP released the following statement of gratitude to Duncan Lewis Solicitors;
"It was a great turn out and everyone was well informed of the need and helped raise funds which will make an immediate and vital impact in Gaza. It means a lot to our team in Gaza when they hear of People in the UK are doing so much to help. So a big Thank you to everyone at Duncan Lewis for making this happen"
Duncan Lewis said that the event was a "great success" with over 100 people attending and would like to would like to wish their own congratulations to YagaBs ladies team and the mens TeamMalcolmX who were crowned as champions.
Duncan Lewis would also like to thank all of the other legal firms and Chambers who participated and donated, including; Howe & Co, 1 Pump Court, Oracle Solicitors, Neumans LLP; the Duncan Lewis Board of Directors for covering the costs of the pitches and a special thank you to everyone who made a donation.
Duncan Lewis Public Law Director and participant of the tournament Toufique Hossain added;
"We are proud to have been able to do our bit in raising money and awareness for such an important cause. It was heartwarming to see so many of us wanting to help those that are suffering in Gaza. We felt it was important for us as a firm to try and do something.
The reaction from our staff was incredible. We are all very proud and from Josh, Ahmed and I, we thank the Board at Duncan Lewis for its support and are grateful to our colleagues for making this a success. We continue to fight for the most vulnerable in society".
Duncan Lewis have released photos of the event on their Facebook account, which can be accessed by clicking here.
About Duncan Lewis
Duncan Lewis, established in 1998, is the largest civil legal aid practice in the UK and one of the country's fastest growing firms of solicitors, serving both corporate entities and private individuals from offices across London and throughout the UK. A recommended leading law firm by Law Society Lexcel, Legal 500; Duncan Lewis employs over 500 members of staff and was the first law firm to achieve the Investors in People Gold Quality Standard Mark in 2009. Representing over 25,000 clients per year, the company has an excellent reputation in the Administrative Court, High Court and Court of Appeal in the Immigration, Public law and Family/Child Care jurisdictions.
Established areas of law are: business immigration, child care, civil liberties, clinical negligence, community care, crime and fraud, dispute resolution, debt and insolvency, employment, family and divorce, housing, asylum and immigration, litigation, mental health, personal injury, prison law, professional negligence, public law and administrative law, regulatory matters and welfare benefits.