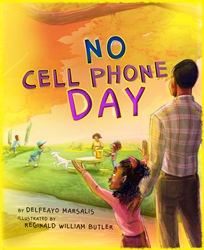 New Orleans, LA (PRWEB) August 28, 2014
Jazz trombonist, music producer and educator Delfeayo Marsalis' new book, "No Cell Phone Day," earned the 2014 National Indie Excellence Award for the best picture book for ages 4 to 8, and is the grand-prize winner of the 2014 Purple Dragonfly Book Awards.
The National Indie Excellence Book Awards is a competition judged by independent experts from all aspects of the indie book industry. A diverse panel of professionals selects award-winners and finalists based on overall excellence of presentation in addition to the writing. The Purple Dragonfly Book Awards were conceived and designed with children in mind, and are divided into 38 categories, ranging from books on the environment and cooking to sports and family issues.
"No Cell Phone Day" follows 6-year-old Jazmine as she gifts her dad a birthday present of spending quality time together without the interruption of cell phones. As a result, father and daughter have the greatest day ever. Young readers share their journey, bonding while visiting historical landmarks throughout the city of New Orleans.
The heartwarming story highlights the importance of personal interaction with loved ones, without the distractions of mobile phones and other technology. The new picture book for young readers features fun, vibrant artwork created with both pencil sketches and digital painting techniques by Reginald William Butler.
" … Remember our youth without technology? We would talk, engage and see sights for our enjoyment and connect with those around us," writes Amazon reviewer Moms Lifesavers, who gave the book five stars. "Delfeayo Marsalis credits the longevity of his grandparents to a simpler way of life - and we couldn't agree more. This book teaches us to go out and enjoy life ... the sights, the sounds, and relationships that mean the most to us. As a parent, this challenged me to have my very own NO CELL PHONE DAY!"
About Delfeayo Marsalis
While Delfeayo Marsalis (http://dmarsalis.com) is known primarily for his work as a jazz trombonist and music producer, he has been involved with youth education for many years. In 2000, he founded the Uptown Music Theatre to provide dramatic arts education to New Orleans youth. UMT has staged 16 of his original musicals. Inspired by his autistic younger brother, Mboya, Delfeayo has volunteered and presented shows at Children's Hospital of New Orleans, including the therapeutic soft introduction to jazz, "Swinging with the Cool School." "No Cell Phone Day" is his first children's book.