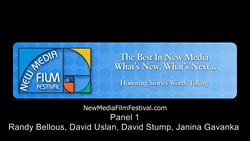 Now anyone has access to the ability to express themselves..in their own media and productions. Academy Award Winner David Stump
Los Angeles CA (PRWEB) August 28, 2014
Los Angeles CA the home of the Entertainment Industry helmed The Who, What, Why & How of New Media Panel with experts Randy Bellous, David Uslan, Oscar Winner David Stump and True Blood's Janina Gavankar at New Media Film Festival.
The video is now online for the public at no charge - https://www.youtube.com/watch?v=bGYYjm5LXxE&list=UUqonMeRL1mzifyw-efVKp_Q.
EXPERT PANELISTS INCLUDE:
RANDY BELLOUS - is an eleven time award winning television producer. Though his expertise is in Live Multi-Camera Television Events, he has been Producing Network and Cable Television Shows, Live Concerts videos and Elaborate Corporate Shows for over 20 years.
His vast experience, that includes all aspects of Television Production, is what makes him a highly respected Producer among his peers. He has produced shows for ABC, CBS, NBC, FOX, WB, UPN, A&E, PBS, MTV, VH1, Comedy Central, ESPN, BET and Court TV. The State of California, for over 21 years, has consecutively honored Mr. Bellous with a yearly contract to produce videos and photography for Santa Monica College's Marketing department.
DAVID STUMP - Academy Award Winner A.S.C. has worked on numerous motion pictures as Director of Photography, Visual Effects Director of Photography, Visual Effects Supervisor, and as Stereographer. Earning an EMMY Award, an ACADEMY Award for Scientific and Technical Achievement as well as an International Cinematographers Guild Award.
His credits include such high profile projects as THE LAST STAND, QUANTUM OF SOLACE, FLIGHT PLAN, FANTASTIC FOUR, X-MEN 1 & 2, BATMAN FOREVER, FREE WILLY, and many others.
David is currently the chairman of the Camera Subcommittee of the ASC Technical Committee. David is also a member of AMPAS, ATAS, ASC, PGA, IATSE, SOC, SMPTE and many other industry associations.
DAVID USLAN - A graduate of Indiana University, David's production credits include Batman Begins, The Dark Knight, The Dark Knight Rises, Constantine, Catwoman, National Treasure, The Spirit, the upcoming Doc Savage and many more. He is currently Vice President of Development for both Batfilm Productions and Branded Entertainment.
JANINA GAVANKAR –Since Janina's music video screened at last year's New Media Film Festival, Janina has acted in several projects including the Vampire Diaries, Think Like a Man Too, The White Orchid, and Love Is Dead. Other past acting credits include The League, True Blood, Arrow, and The L Word.
Thanks to David S. Dawson - Bryan Keith Davis - Diego Robles from The Intellexual.com for filming & editing the Panel.
ABOUT NEW MEDIA FILM FESTIVAL:
New Media Film Festival - Honoring Stories Worth Telling
June 9 & 10th 2015 in Los Angeles CA
http://www.NewMediaFilmFestival.com
Highly respected as the birthplace of new cinematic talent and honoring legendary talent, the New Media Film Festival is now accepting entries for the 2015 edition. The festival has become recognized as the best place to find new talent in filmmaking that uses new media as well as traditional platforms to tell stories.
The groundbreaking aspect of the festival is perhaps best exemplified by the categories that it currently awards in, 3D, Animation, Apps, Digital Comics, Documentary, Feature, LGBT, Machinima, Made on Mobile/Tablet, Music Video, New Media, Pilots, Scripts, Shorts, Shot on RED, Sniplers – 30 second pitch, SRC- Socially Responsible, STEAM-Science, Technology, Engineering, Art, Math, Trailers & Web Series.
Judges are Industry Leaders from Marvel, Oscars, Emmys, Grammys & more. Submissions are accepted year round. Each submission is considered for Screening, Competition ($45,000.00 In Awards) and Distribution.
SUSAN JOHNSTON Founder/Director:
Susan founded the critically acclaimed New Media Film Festival ® in 2009 to honor stories worth telling in the ever changing landscape of media, New Media. Legendary judges cull over the content for the annual festival in Los Angeles that offers screening, competition ($45k in awards) and distribution opportunities. Currently there are over 600 titles in their library.
Johnston has a background in the traditional film and TV industry, but has also become known in recent years as a pioneering new media producer including Stan Lee's Comikaze Expo panel for Independent Creators, Co-Producing Feature Film Dreams Awake & currently producing the Marvel Comic feature Prey: Origin of the Species. While the Industry was changing from standard def to HD Johnston produced the 1st series for mobile, Mini-Bikers the 1st live stream talk show on HD with a Panasonic Varicam and tested the Panasonic DVX100 which led to some changes on the DVX100A and was on a committee to develop the SAG Internet contract with Pierre Debs of SAG.
Currently a member of Academy of Television Arts & Sciences New Media Interactive, BMI, SAG/AFTRA, Professor Emeritus in New Media, on the New Media steering committee for The Caucus, an advisory board member for SET Awards (Entertainment Industry Council), Machinma Expo Judge, New Media Institute Judge, Advisory Board for Woodbury University Digital Media Lab, Editorial board for the Encyclopedia of Computer Graphics and Games and Miss America NY Judge.