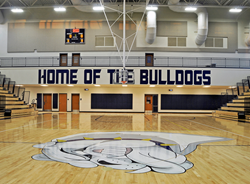 New York, New York (PRWEB) August 28, 2014
Turner Construction Company has been hard at work this summer, completing modernizations, renovations, additions and new construction projects at elementary, middle and high schools, and on university campuses across the country.
Turner completes in excess of $1 billion in school construction projects year-round, performing much of the work on fast-track schedules in the summer. This year, among many primary and secondary schools, the company is proud to have completed work on a 900-student, K-8 school and the first high school in the town of Mountain House for the Lammersville Unified School District of Sacramento, California. The company also completed work on seven schools in Washington, DC area, where Turner project teams welcomed students at their schools, passing out Turner pencils and fact sheets for each building, including how many bricks were used, and sustainability information.
In the Olathe Unified School District, in Kansas, Turner completed work on more than 30 schools, adding, among many other things, gymnasiums, music rooms, and more secure entrances, and performing significant interior, architectural upgrades to floors, ceilings, lockers, and bathrooms.
In addition to these projects, Turner recently completed a number of higher education projects including the Institute for Human Performance at the State University of New York's Upstate Medical Center, a science and research facility for Middle Tennessee State University, and for New York University, two dining and student services facilities.
About Turner Construction Company
Turner is a North America-based, international construction services company. Founded in 1902, Turner first made its mark on the industry pioneering the use of steel-reinforced concrete for general building, which enabled the company to deliver safer, stronger, and more efficient buildings to clients. The company continues to embrace emerging technologies and offers an increasingly diverse set of services. With an annual construction volume of $9 billion, Turner is the largest builder in the United States, ranking first in the major market segments of the building construction field, including healthcare, education, sports, commercial, and green building. The firm is a subsidiary of HOCHTIEF, one of the world's leading international construction service providers. For more information please visit http://www.turnerconstruction.com.
About HOCHTIEF
HOCHTIEF is one of the most international construction groups worldwide. The company delivers complex infrastructure projects, in some cases on the basis of concession models. The Group operates in the transportation infrastructure, energy infrastructure and social/urban infrastructure segments as well as in the contract mining business. With nearly 81,000 employees and a sales volume of more than EUR 25 billion in FY 2013, HOCHTIEF is represented in all the world's major markets. With its subsidiary Leighton, the Group is market leader in Australia. In the USA, the biggest construction market in the world, HOCHTIEF is the No. 1 general builder via its subsidiary Turner and, with Group company Flatiron, ranks among the most important players in the field of transportation infrastructure construction. Because of its engagement for sustainability, HOCHTIEF has been listed in the Dow Jones Sustainability Indexes since 2006. Further information is available at http://www.hochtief.com/press.