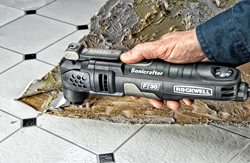 Charlotte, N.C. (PRWEB) August 28, 2014
Evolution in oscillating tools is well underway and Rockwell® is in the forefront with product innovation. New features and performance characteristics shatter other manufacturers' tools, and these changes are on the heels of previous intros of true Universal Fit and Hyperlock™. Universal Fit means that Rockwell's new accessories not only fit the company's tools, but every other major competitors' brand as well without sacrificing fit or performance. Hyperlock eliminates blade slippage. This feature applies one metric ton of force against the accessory so there's no fear of blade slippage in the midst of a cut.
Most oscillating tools' oscillating angle is 3.2°. The Sonicrafter F30's oscillating angle is 4°-- the greatest angle of any oscillating tool in the industry next to the Sonicrafter F50, which is 5°. Typically, an increase in the oscillation angle causes more movement and unwanted vibration. Rockwell engineers employed a counterweight called Vibrafree™ in the tool to offset this movement, providing a smoother, more efficient cut.
The F30 works harder too. In fact, it can absorb 30 lbs. of force before stalling out, while competitors drop out at 20.5 lbs. or less.
The F30 can clip nail heads all day, but now with the faster speed and greater oscillating angle, it's capable of doing tasks typically reserved for other power tools.
It can cross-cut and rip wood, sand tight spots such as corners with professional results, cut through sheetrock like it's butter, and make perfect cutouts for light fixtures, junction boxes, wall outlets, recessed medicine cabinets and more during remodeling projects.
Oscillating tools can handle a myriad of jobs and projects around the house and shop to save time, energy and money. However, a tool is only as good as the accessory doing the work. Several innovative accessories, plus a new line of Extended Life accessories, are now available from Rockwell. Extended Life accessories offer bi-metal teeth for added strength and durability in rigorous applications.
The Rockwell Sonicrafter F30 is variable-speed with 3times faster cutting speed than Rockwell's model RK5121K. The F30 has a 30 lb. maximum cutting load and features constant speed control, which electronically maintains speed-of-cut under load. The 3.5 amp tool with an oscillating angle of 4° oscillates at 11,000 to 20,000 oscillations per minute. The 2.9 lb. tool also features Universal Fit and Hyperlock, described above.
Sonicrafter F30 comes with 32 Universal Fit accessories including (3) 1-1/8" end-cut blades (metal, precision, standard), (1) rigid scraper blade, (1) sanding pad, (26) sanding sheets, plus hard case. The compact case features separate bulk storage areas for quick and easy access to the tool and accessories. Its rigid, durable construction provides ease of stacking and transport.
The new Rockwell Sonicrafter F30 (RK5131K, $119), and other models including Sonicrafter F50 (RK5141K, $139), Sonicrafter (RK5121K, $79), 20V Cordless (RK2863K, $159, fall 2014) and ShopSeries Sonictool (SS5121, $49) are available at http://www.rockwell tools.com, Lowes and other select major retailers. Rockwell Sonicrafters have a 3 year warranty.
Follow Rockwell Tools on Facebook: https://www.facebook.com/RockwellTools?ref=hl, Twitter:https://twitter.com/RockwellTools and Pinterest: http://pinterest.com/rockwelltools/ and Vine: @RockwellTools.
# # #