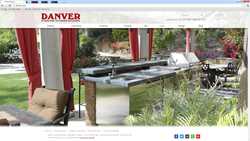 WALLINGFORD, Conn. (PRWEB) August 29, 2014
Danver Stainless Outdoor Kitchens, the nation's premier stainless outdoor kitchen manufacturer, today launches a completely redesigned website to further meet the needs of architects, landscapers, designers, and consumers who want to create their ideal outdoor living paradise. The redesigned website includes new features and enhanced functionality designed to improve visitors' online experience.
"Consumers are enhancing their backyard spaces to serve as their special getaway spot for enjoying leisurely gatherings with friends and family—we want to make it easy for them to make this happen," said Mitch Slater, president and founder, Danver Stainless Outdoor Kitchens. "Danver's new, improved website is informative and engaging; it provides in-depth information on outdoor living, product features and benefits, making the research and purchase process easier and more enjoyable for our customers."
Danver's redesigned website features a new "Gallery" section showcasing a collection of new, beautiful photos to inspire homeowners with a myriad of design possibilities for turning their backyard into an outdoor paradise. The website also includes a new "Design" tab equipped with a simple drawing program that allows users to create their own outdoor kitchen based on cooking and design preferences.
"Understanding outdoor kitchens may initially seem like a daunting task for homeowners who are designing a sophisticated outdoor living space for the first time. Our new website is a testament to consumers and designers that learning and choosing the right outdoor kitchen appliances is just as simple as it was when induction cooking was first introduced to the market," adds Slater.
For more information on Danver Stainless Outdoor Kitchens, please visit http://www.danver.com.
About Danver Stainless Outdoor Kitchens
Headquartered in Wallingford, Connecticut, Danver Stainless Outdoor Kitchens is the leading provider of stainless steel cabinetry and amenities for outdoor living, including: American- made stainless steel gas grills, refrigerators, icemakers, pizza ovens, ceramic smoker/grills, outdoor bartending centers and beer dispensers—all designed to maximize enjoyable outdoor entertainment.