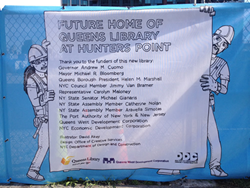 We are very excited to be commissioned to reprint and replace the vandalized banners.
Long Island City, NY (PRWEB) August 27, 2014
Apple Visual Graphics, a digital printing service based in Long Island City, New York, recently wrapped the fence of an entire block in Queens, New York with a sleek, new, vinyl banner.
The Queens block in question had been, for many years, underdeveloped and overgrown with weeds. To make matters worse, a massive chain link fence surrounded it. The original fence banner that had been printed and installed on it back in 2013 had been vandalized and cut up with box cutters, making the space appear all the more unsightly.
Instead of letting the area continue to wallow in neglect, the city of Queens decided that to revitalize the space, so it commissioned works of public art to beautify the street, the park, and the entire community.
Apple Visual Graphics was tapped for the project, and the team was excited to participate despite the undertaking's massive size. In order to beautify the space, Apple Visual Graphics needed to create a colossal banner to cover their designated area, which would eventually become the home of a new New York City public library.
Not ones to be daunted in the face of a challenge, Apple Visual Graphics wrapped the old, rickety fence with a sleek, new, vinyl banner that wound up being 8' by 2000' feet long -- the size of the entire block.
The community responded enthusiastically, saying that they loved the work Apple Visual Graphics did, and that the new space has truly been beautified. It's no longer unsightly or neglected, as it had been for years.
"We are very excited to be commissioned to reprint and replace the vandalized banners," said Howard Sturm, the Chief Executive Officer of Apple Visual Graphics. "We are very proud that we were able to serve the local Queens community and help replace their damaged banner."
Apple Visual Graphics is a family owned and operated print shop based out of Long Island City, NY. With ties to the community, Apple Visual Graphics prides itself for being Forest Stewardship Council ™ certified through the Rainforest Alliance ™ Smartwood Program. Apple Visual Graphics now accepts "Made in NY" cards, offering a discount to Film, Theatre and Broadcasting companies who are registered with the NYC Mayor's Office of Film. Specializing in wide format, digital and offset printing, Apple Visual Graphics can bring any print job to life. For more information, please visit applevisualgraphics.com.