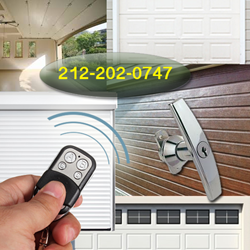 The Best Source For Brooklyn, NY Garage Door Repair Service
Manhattan, Brooklyn, NY (PRWEB) September 12, 2014
Garage doors require special attention when it comes to ensuring safety and security of your property. It is best to consult a professional for proper and timely maintenance of garage doors on a regular basis. Rolling Gates NYC is a New York based company offering 24/7 repair, maintenance, and installation service for all types of wooden, steel and high tech new generation garage doors and also specializes in garage door inspection.
The spokesperson for Rolling Gates NYC, Robert B., explained the importance of garage door inspection and specified key signs that mean you require a new garage door. "There are certain signs that one can look out for in the garage doors at your home to maintain the safety of your family and the security of your family." Said Mr. B. "The first should be checking the cables. Any visible wires hanging near the garage door may break because of the movement, causing serious electrical injuries or even fire. A garage door professional should be called to replace these cables at once."
Aside from the cabling, the moving parts of the garage door also require keen inspection after every six months to ensure that they are in running condition. "Noise is the first trigger that you are going to notice", said Robert. "If the rollers are making a creaking noise or not moving as smoothly as before while opening or closing, they may need lubrication or replacement."
Climatic conditions and exposure to certain environmental factors can also result in rust or denting in the garage door sections. Mr. Robert further explained the concept and said, "Call a repair specialist from Rolling Gates NYC if you see peeling paint or dents in your garage door." Ignoring the problem may cause irreparable damage to the garage door and the replacement costs will also be much higher than usual.
Other factors that call for prompt maintenance or repair of garage doors include checking the tracks for alignment to inspecting the hinges and ensuring that they are not bent or broken. Nevertheless, it's best to get in touch with a professional at a reputed, professional company like Rolling Gates NYC for a detailed and thorough inspection of the garage does.
Rolling Gates NYC offers garage door service and repair and customized security solution. Their major services include repair, installation and maintenance of steel doors, grilles, garage doors, commercial glass doors, iron doors, solid gates and commercial revolving doors. The company provides round-the-clock service all across New York and also offers emergency garage door repair by trained specialists, at the most cost effective rates in Brooklyn, Long Island, Manhattan, Queens and Bronx.
For more information regarding Rolling Gates NYC and their services for replacement, installation and servicing of garage doors, please visit the website http://www.rollinggatesnyc.com