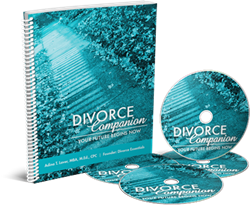 The Divorce Companion helps bring sanity to what can become an insane process.
Philadelphia, PA (PRWEB) August 28, 2014
Earlier this year, Divorce Corp, the movie, drew attention to corruption within the Family Law system and practices that often tear families apart in painstaking ways. Providing a glimmer of hope for a healthier experience, attorneys are now turning to the Divorce Companion TM, a multi-media, interactive program, to support families in navigating this complex and difficult process with less emotional and financial cost.
"Children stand to benefit the most," says Adina Laver, founder of Divorce Essentials and creator of the Divorce Companion. "When divorce is drawn out and turns into a battle, children always lose. Parental stress filters down to the kids and prolonged battles create a great deal of uncertainty and instability for children."
A growing number of family law attorneys recognize that divorce is hard enough on families and that it is not in everyone's best interest to become entrenched in a bitter and intractable battle. However, the odds are against families making a healthy transition. Even couples who want to do what is best for their children and begin the process in an amicable way, are easily drawn into a system that feeds their already raging fear, mistrust, and anger. According to neuroscience, once these heightened emotions are triggered, the fight, flee or freeze response is activated and it is impossible to make truly rational decisions.
Collaboratively-minded attorneys and mediators are now taking a careful look at the Divorce Companion and how it can help them achieve healthier outcomes for the clients they serve. According to Lenore Myers, Family Law Attorney and Custody Conciliator in Montgomery County, PA, "The Divorce Companion helps bring sanity to what can become an insane process. With its multi-media format, the information and exercises are easily absorbed and put into practice. I am thrilled to be able to offer it to my new clients to help them process this life transition in a more holistic way."
Myers is just one of a quickly growing number of attorneys who are signing on to become Divorce Companion Affiliates and providing the Divorce Companion program to appropriate clients at no additional cost. "I believe the program is so valuable that I offer it as part of my retainer so my clients can begin using it right away, without worrying about having to pay for something else," says lawyer and mediator Catherine Cardozo of Cardozo Family Law in Abington, PA.
While individuals can purchase the Divorce Companion on their own, receiving it directly from their attorney is a clear indicator that they have chosen a lawyer or mediator who truly wants to support them in achieving the healthiest possible outcome for them and their family. "As professionals, we know that the legal and financial aspects of divorce are distinct from the emotional ones, but clients have a difficult time navigating between them. Our investment in the Divorce Companion is an investment in our clients to help them achieve results that will prepare them for the rest of their lives," says Rosanne DeTorres of DeTorres and DeGeorge, a boutique family law firm in Flemington, NJ.
The Divorce Companion is a comprehensive, multi-media divorce support program that prepares individuals and couples for the complex issues they will face and decisions they will need to make as they navigate their divorce. Developed by the founder of Divorce Essentials and informed by an advisory board of divorce professionals including a Family Law Attorney, Divorce Mediator, Certified Divorce Financial Analyst (CDFA), Financial Planner, Marriage and Family Therapist, Parenting Coach, and two divorcing individuals, the Divorce Companion offers reliable and trusted information in one convenient source.
Family law attorneys and mediators who are interested in learning more about the Divorce Companion Affiliate Program should contact Adina Laver at adina(at)divorceessentials(dot)net. Individuals interested in learning more about the Divorce CompanionTM for themselves or friends and family members, can find it at http://www.divorcecompanion.com.
_______________
Adina Laver, MBA, M.Ed., CPC is an internationally recognized divorce and relationship expert and coach who serves individuals and couples who are considering divorce, preparing for divorce, or navigating divorce and want to pursue this life transition in a healthy, self-empowering way. Adina appears regularly in the media on TV and radio and hosts a free monthly support call for those preparing for divorce. To interview Adina Laver, engage her to speak, or to learn more about how the Divorce Companion is designed to transform the divorce experience, visit http://www.divorceessentials.net.