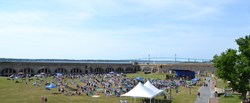 The sound of music floating over Narragansett Bay announces the beginning of Labor Day festivities in Newport, RI!
Newport, RI (PRWEB) August 27, 2014
Sundown Thursday free summer concerts have been providing beautiful sunsets and free live music to concert-goers all season. Tomorrow's August 28th concert, starts at 6 PM and runs past sundown at Historic Fort Adams. Concert producer Tom C. Erb says, "Bring your beach chairs, blankets, and friends to an evening of live music and the best sunset view in town! We have such a beautiful spot out here at the Fort and we needed to find a way to make sure the community has something special to do here throughout the summer. The last Sundown Thursday concert for the season will be next week, September 4th. Don't miss out on Newport's grand new tradition!" Food and beverages are available for purchase, including alcohol, must have a valid ID.
On Friday, August 29th, Fort Adams Trust will host the second and final Classic Rock Concert for the season. Acts include music legend Rick Derringer, most famously known for "Rock and Roll Hoochie Koo" and "Hang On Sloopy;" Rhett Tyler and Early Warning, an inspiration to Stevie Ray Vaughan; and New England's Top Steely Dan Tribute Band, Hey Nineteen. The MC for the evening will be Lite Rock 105's morning drive co-host Steve Donovan! This event will be 21+, valid ID needed. Food and beverages will be available for purchase. Please no coolers/food or drinks are allowed to be brought in. Attendees are welcome to bring low back chairs, blankets, and towels and get comfortable on the lawn. Tickets are $25 and can be ordered online at FortAdamsTickets.org. Proceeds benefit the preservation and programming of the National Historic Landmark Fort Adams.
Executive Director of the Fort Adams Trust, Rick Nagele, adds "Chakulla and the Hunger Bus will be at both the Sundown Thursday concert and the Newport Rocks the Fort concert this week. Chakulla will be collecting non-perishable food and donations for the Rhode Island Community Food Bank. We understand the support needed by the community in order to run a successful non-profit, so we thought music was the best way to bring everyone together."
Nagele continues, "Speaking of support, we are truly grateful for the support that our sponsors bring to these events. This National Historic Landmark is an integral part of Newport's culture, which needs constant upkeep and TLC. Thanks to our sponsors, we are able to put on these great events and raise funds towards preserving and programming this magnificent Fortress. We'd like to give a special thank you to our Gold Sponsors, Arden Engineering and East Commerce Solutions. Also, we must thank our sponsors Meller Optics, Venmark International, Greenwich Bay Oyster Bar, Sons of Liberty, Hanley's Ale House, and Steve Erinakes. Last, but certainly far from least, we are so thankful for our beverage sponsors, who continue to show their outstanding support throughout the year: Coastal Extreme Brewing LLC (Newport Storm Beer and Thomas Tew Rum) and Newport Vineyards."
About the Fort Adams Trust
The Fort Adams Trust is a 501 (c)(3) non-profit responsible for preservation, programming, and promoting the National Historic Landmarks in Fort Adams State Park in Newport, Rhode Island. Over 100,000 people tour the Fort and attend events in the Park annually. The Trust, descended from the Fort Adams Foundation, accepts donations to support its preservation and programming missions.
About Newport, Rhode Island
Newport, often called the City by the Sea, is also referred to as 'New England's second global city.' In addition to the incredible historic destinations and cultural activities, great restaurants & shops, and unrivaled scenic beauty, there is a cosmopolitan sophistication to the City. International visitors abound and you can hear multiple languages on the streets.