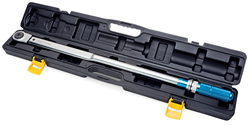 Over-torque a bolt and it'll fail; under-torque and it can loosen.
Pottstown, PA (PRWEB) October 02, 2014
The Eastwood Company has launched pro-quality Micrometer Torque Wrenches, at DIY prices, that offer accuracy equaling or exceeding that of many torque wrenches on the market. For those working on vehicles, proper torque settings are critical. The Eastwood torque wrenches measure in either ft/lb and in/lb, and are available in 3/8" and 1/2" sizes.
"Over-torque a bolt and it'll fail; under-torque and it can loosen. These new Eastwood torque wrenches have a signal function that prevents over torquing of fasteners, plus the locking mechanism assures settings stay set while in use," said Nick Capinski, Eastwood Content Manager.
Eastwood torque wrenches feature a low profile head design that allow these wrenches to get into tighter spots than other wrenches. They have a fine ratcheting action and are accurate to +/-3%, clockwise and counterclockwise. The patent-pending cam wheel design eliminates friction to improve accuracy, and the special link design reduces wear and tear, extending calibration life by 200% to 300%. The two point external calibration access promotes precision adjustment, and the low stress designs eliminate the need to adjust the wrench to its lowest setting after each use.
#30098 - Eastwood 1/2in Micrometer Torque Wrench 50 to 250ft/lb and 67-338 Nm
#30097 - Eastwood 1/2in Micrometer Torque Wrench 30 to 150ft/lb and 40-203 Nm
#30096 - Eastwood 3/8in Micrometer Torque Wrench 15 to 75 ft/lb and 20-100 Nm
#30095 - Eastwood 3/8 in Micrometer Torque Wrench 50 to 250in/lb and 5-27 Nm
Eastwood markets unique tools and supplies for repair, restoration, and modification of cars, trucks, and motorcycles. Founded in 1978, Eastwood constantly strives to develop new products to serve the home automotive hobbyist, as well as individuals and organizations focused on the restoration and preservation of automobiles and motorcycles. Writers are always welcome to use any article in Eastwood's Free Tech Library, with attribution. Contact Nick Capinski at ncapinski(at)eastwood(dot)com.