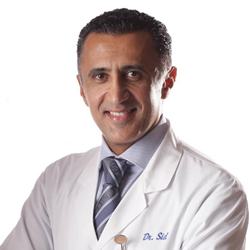 Every opportunity to relieve a person of either physical and/or emotional pain gives me the strength to work even harder for their benefit
LOS ANGELES, CALIFORNIA (PRWEB) August 28, 2014
Dream Big… Smile Big chronicles Dr. Solomon's self-made story, from his emigration alone to the United States at age 14 through his journey to becoming one of L.A.'s premiere dentists. In addition to his life story, Dr. Solomon explains in layman's terms every dental procedure and gives a rare behind-the-scenes looks into the world of dentistry.
Dr. Solomon is particularly known for his treatment of temporomandibular joint dysfunction (TMJ). It is a vexing condition that can cause migraines, headaches, neck and shoulder pain, jaw pain, ringing in the ears, and other problems and is often misdiagnosed by doctors and dentists. That's where Dr. Solomon's extensive experience with neuromuscular dentistry comes to the fore.
"Every opportunity to relieve a person of either physical and/or emotional pain gives me the strength to work even harder for their benefit," says Dr. Solomon. "That's why, other than my family, my practice will always be the main priority of my life."
The world of dentistry is a frightening place for many people and Dr. Solomon has made it one of his goals to change that. In his three L.A. offices — the Center for Cosmetic, Implant & Neuromuscular Dentistry in West Los Angeles, Aesthetic Dental in Thousand Oaks and Dental Wellness in West Hills — Dr. Solomon has infused a spa atmosphere to complement the dentistry. Patients relax in massage chairs, receive complimentary hand wax spa treatments, watch flat screen TVs while receiving treatment, and experience other perks that are far from your typical dentist office visit.
His experiences with his patients and the world of dentistry prompted him to write Dream Big… Smile Big. "Dentistry is an ever-changing, ever-moving, beautiful ocean of skill, artistry, and technique," Dr. Solomon writes in the book. "As a dentist, I feel an inherent obligation to my patients to forever ride the waves of this ocean and to grow as a dental practitioner every single day. This book is my way of sharing my life with my readers."