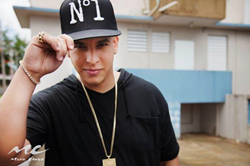 New York, NY (PRWEB) September 02, 2014
New York, New York (September 2, 2014) – Music Choice kicks off Hispanic Heritage Month today with the latest installment of its popular Take Back Your Music brand campaign featuring the first Latin artists ever in the campaign with Daddy Yankee, The King of Reggaeton. The multi-platform video and music network will also air exclusive interviews and original programs on Music Choice On Demand, Music Channels and Music Choice Play with all-time favorites Daddy Yankee and Fat Joe along with up and coming artists, Karlos Rosé, Justin Quiles, and Leslie Grace. The content will be available nationally for free through October 12, 2014. (Directional: Video on Demand: Music Choice On Demand > Hispanic Heritage)
Music Choice's Head of Latin Programming Luis Rivera stated: "We are happy to celebrate Hispanic Heritage Month this year by highlighting a wide range of Latin music content and working with artists of different calibers. From Daddy Yankee to Leslie Grace, we are bridging the gap between Latino music icons of today and the future generation of Latino superstars that appeal to both Hispanic and mainstream audiences."
Music Choice will feature platinum-selling artist Daddy Yankee and rapper Fat Joe in the network's first artist-focused episodic series Chronicles. The 30-minute introspective journey chronicles the lives and careers of today's hottest artists and the steps that ultimately led to their success. Shot on location in Puerto Rico, this marks the first time Daddy Yankee opens up to his fans for a more in-depth glimpse of his childhood life. In Fat Joe's episode, he takes his fans back to where got his big break—The Apollo Theatre—and where he grew up in The Bronx, New York. Each episode will become available on Music Choice On Demand following its initial broadcast premiere on Music Choice Play.
Chronicles Episode Schedule:

Tuesday, September 16 at 8pm ET/PT – Daddy Yankee
Tuesday, September 30 at 8pm ET/PT – Fat Joe
Music Choice has proven to be a network devoted to all genres of music, as well as a network that highlights up and coming artists. Primed is an emerging artist series that will give viewers an inside look into rising stars and their unique sound. The rising stars for Hispanic Heritage Month are Justin Quiles, Karlos Rosé, and Leslie Grace. During individual episodes, each artist will candidly discuss their music beginnings, what their fans can expect from them and what inspires them as an artist.
Primed Episode Schedule:

Monday, September 1- Karlos Rosé
Monday, September 15 - Justin Quiles
Monday, October 6 - Leslie Grace
Romeo Santos, King of Bachata, is Music Choice's featured Artist of the Month. A deep catalog of his videos will be featured under MC On Demand > Romeo Santos
MC will also feature the top Latin Mixx DJs from across the country spinning on its Musica Urbana, Tropicales and Pop Latino music channels throughout Hispanic Heritage Month. MC will also feature an increased rotation of Rancheras and traditional Regional Mexican music on the Mexicana music channel to celebrate Mexican Independence Day on September 16, 2014.
Also, join in on the fun via Music Choice's social media platforms with its "Rep Your Flag" movement. During Hispanic Heritage Month, viewers are encouraged to post a picture of their country's flag and use the hashtag "#MCLatino" for a chance to have their post reposted on Music Choice's social media!
For more information on Music Choice, log on to http://www.musicchoice.com