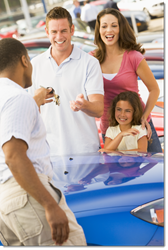 "The Incentive Optimizer does all the work for dealers so that they can focus on what's important: selling cars." - ProMax CEO John Palmer
Davenport, Iowa (PRWEB) August 29, 2014
A Powerful Rebate Management Tool – The Incentive Optimizer offers a valuable combination of functionality and information to car dealerships. Not only does it automatically select appropriate incentives based on vehicle and customer eligibility, it determines the best grouping of programs for each deal. Additionally, the Incentive Optimizer recognizes incompatibility between various programs and eliminates conflicting incentive scenarios. "We always strive to make dealers' jobs easier" says ProMax Unlimited CEO John Palmer. "There's a lot of confusion surrounding rebates and how to get the best deal every time. The Incentive Optimizer does all the work for dealers so that they can focus on what's important: selling cars."
Comprehensive Rebate and Incentive Database – The backbone of the Incentive Optimizer is a comprehensive database which covers all regional and standalone rebates, in addition to auto show programs and other special events. All information is updated daily and supported by a dedicated department. "All of our information is 100% guaranteed" says Brian Wilson, Vice President of Product Development at ProMax. "If we get anything wrong, we'll pay the dealer's chargebacks".
Integrated Into the Process – Rather than functioning as an add-on, the Incentive Optimizer is seamlessly woven into the ProMax system, ProMax Dealer Websites, and by extension, ProMax dealers' sales processes. From the beginning of a showroom visit sales reps are able to pre-select customer qualifications, and this information is automatically utilized in all subsequent desking searches and deal scenarios. "The Incentive Optimizer is easy to use, and will save our customers both time and money" says Shane Born, COO of ProMax Unlimited. "And more than that, it's another piece of our total front-end solution that enables dealers to achieve success through easily identifiable processes that serve their broader vision."
An Unmatched Desking Solution – The Incentive Optimizer is the latest addition to ProMax Unlimited's award-winning desking module. Darian Miller, longtime ProMax CTO, says of the groundbreaking new product: "For the last 20 years everyone has known we have the best desking solution available, and now it just got even better." ProMax is recognized as the industry standard for desking software, taking home top honors in the Desking category of the Auto Dealer Monthly Dealer's Choice Awards each of the last four years, and seven of the last ten.
ABOUT PROMAX UNLIMITED
Dealer Marketing Services, Inc. was formed in 1994 by John Palmer. In August of 1995, ProMax was introduced as a Special Finance software solution. In 1998, the software was expanded to handle all types of desking including new and used vehicle leasing, CRM, finance menus, inventory management, reports, and credit application submissions to lenders. In 2002, ProMax was introduced as the industry's first Internet-based full front end solution and today is used by over 2,000 automotive dealerships. The ProMax Unlimited internet application integrates with dealership DMS systems and can be used effectively in large dealer group situations as well as single location dealerships. Dealer Marketing Services, Inc. also provides credit bureaus, website development and hosting, internet leads, and direct mail services to help dealerships increase traffic. Learn more about ProMax Unlimited and Dealer Marketing Services, Inc. at http://www.ProMaxUnlimited.com.