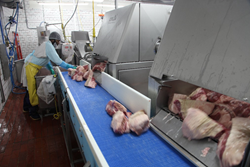 'The DynaClean conveyor is very unique in that it allows us to completely disassemble it, with ease, every night, and ensures us full sanitation. We know that we have a bacteria-free conveyor system the next day.'
Muskegon, Michigan (PRWEB) September 17, 2014
As a fourth generation family business, Grobbel's is committed to continuing the philosophy of its founder. Current Grobbel's president, Jason Grobbel, believes that great products cannot be made without cleanliness and sanitation. With that philosophy, Grobbel searched for a conveyor system company that would give Grobbel's the ability to clean their food processing conveyors quickly and sanitize them easily. Grobbel believes they found the right easy to clean conveyors from Dynamic Conveyor of Muskegon, MI.
"The DynaClean conveyor is very unique in that it allows us to completely disassemble it, with ease, every night, and ensures us full sanitation. We know that we have a bacteria-free conveyor system the next day," says Grobbel. Before discovering the DynaClean at a food processing tradeshow, Grobbel's utilized conveyors that had the same general idea in mind, but they were bulky and didn't have the refinement that the DynaClean system has. They were harder to work with and very difficult to clean.
The patent pending design of the DynaClean conveyor system allows for quick and easy cleaning and sanitation. Hand tools are not required to disassemble and reassemble the food processing conveyors; therefore, sanitation time and cross contamination from hand tools is greatly reduced. "It dissembles without any special tools and it reassembles quite easily, as everything has a clear place to go. It doesn't require a lot of training, which is always a difficult challenge in a food processing environment," explains Grobbel.
The DynaClean conveyor system is built using plastic materials and minimal stainless-steel. The sidewalls are manufactured in a blue high-density polyethylene (HDPE) material. HDPE is a durable plastic material that is approved by the USDA and is a commonly used cutting board material. The systems are customizable which allowed Grobbel's to have a drip pan designed specifically to meet the needs of their particular process. "They worked very closely with us to meet this very exacting need that we had," says Grobbel. Other common additions to the conveyors are hoppers for ease of loading product onto the conveyor and scoop flights for quickly conveying bulk product.
Grobbel's feels that Dynamic Conveyor is filling a niche in the meat and food processing industries with the unique design of the easy to clean conveyors and the ability to build and customize the systems to meet the needs of their customers. "I have yet to find anyone who does what Dynamic Conveyor does," Grobbel said. "Their service is top notch. That's what distinguishes a truly great company is that they really follow up thoroughly, after the sale, with any issues that may occur. I think they have a great future ahead of them."
To watch the easy to clean conveyor video or to learn more about the DynaClean conveyor system visit the website at http://www.DynamicConveyor.com or call 1.800.640.6850.