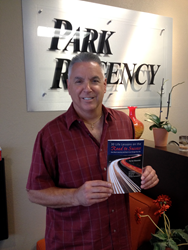 Granada Hills, CA (PRWEB) August 28, 2014
Joe Alexander, managing owner of highly successful Park Regency Realty and a popular motivational speaker, recently released the self-help book entitled "30 Life Lessons on the Road to Success."
The book draws upon the many unique experiences of Alexander's intriguing life to provide essential teaching moments that lay out a proven path to financial and personal triumph. It takes the reader from his early days as an adventurous youth in Los Angeles' San Fernando Valley to his business and personal challenges, as well as his life-changing decisions that still resonate today.
"As a young man, I felt that I had all the answers," says Alexander. "But I quickly realized that I knew nothing about how to tap into my most valuable resources. It was only through listening, learning and applying proven principles that I was able to work my way to success. Now I want to share with everyone exactly how you can utilize the power and adaptability of your mind to achieve your goals."
In the easy-to-read pages, Alexander pulls no punches…alluding to both his successes and failures to offer an enlightening road map that emphasizes the value of self-responsibility and positive attitude. Blending hard-hitting advice and subtle humor, each lesson is reflected in an insightful true story from the author's life. These stories lay the groundwork for turning even insignificant events into powerful learning experiences, re-inventing yourself at any age, controlling and focusing your emotions, establishing a reputation that draws people to you, doing what you fear most…and doing it well!
The book, currently in its first printing, is Alexander's way of giving back to the world, in gratitude for his own success. All of the proceeds will be channeled to reputable children's charities. The book is now available through Amazon, under the search title of "30 Life Lessons on the Road to Success."
For further information, please email Joe at joe(at)parkregency(dot)com, or you can reach him by phone at (818) 363-6116. To learn more about Park Regency Realty, visit the company website at http://www.parkregency.com.