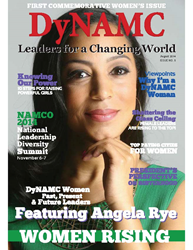 DyNAMC aims to connect our readers with each other and to those organizations and corporations that actively embrace diversity.
National (PRWEB) August 29, 2014
Welcome to DyNAMC Magazine's inaugural annual issue featuring DyNAMC Women.
The current freedoms women enjoy are due to the struggles and persecutions endured by those who came first. Though women have progressed considerably, there is still much to be done.
Featured women continue the tradition of passion, perseverance, and service as they continue blazing new trails for the next generation of female leaders.
Readers will enjoy reading about those who pioneered change, those who are presently changing our world, and those who are just beginning to take up the mantle of challenge.
Each and every one of the women featured in this special issue embodies what it means to be a woman, and DyNAMC is proud to share their stories with readers.
In the commemorative Woman's issue, feature subjects were asked what it means to be a DyNAMC woman.
DyNAMC asked, "Why are you a DyNAMC woman?"
DyNAMC wanted to know, and think you will, too.
DyNAMC Magazine will be providing national media coverage of the 2014 NAMCO National Leadership Diversity Summit November 6-7th in Las Vegas, NV.