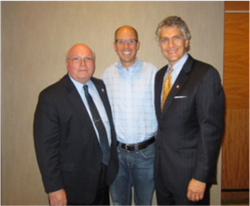 "More than ever, charities must address the biggest concern their donors have while working to meet their pressing financial needs." - Barry H Spencer, Planned Giving Consultant
Atlanta, Georgia (PRWEB) August 28, 2014
On August 20 - 22, planned giving consultant Barry H Spencer received the latest training in Internationally Acclaimed Donor Motivation Program, getting the latest insights from around United States, and Canada about the biggest challenges charities and their development professionals face today.
Along with shared learning among the planned giving consultants from around North America, the very first user of The Donor Motivation Program, Jack Miller, presented from his 35 years of experience as a leading expert in planned giving and major giving.
Non-profit organizations continue to be faced with economic uncertainty and rapidly more suspicious donor attitudes. They are struggling to maintain financial viability and secure permanence, stability, and strength for their organization over the short-term and long-term.
More than ever, development professionals in major and planned giving are stressed to get immediate results with less money and time. The pressure not only comes from within organizations from the board and senior leadership but also from external sources such as private foundations and individual donors demanding bigger results faster.
Most overlooked by charity professional outsiders is the real nature of the work that development professionals do, which is face rejection. Jack Miller noted in his comments to this select group of Donor Motivation Program consultants that eighty five percent of his job is rejection, yet it's the fifteen percent that really counts and keeps him and other veteran professionals motivated to continue to get outstanding results.
As the financial challenges abound, charities are looking for solutions to make relational deposits in donor accounts that builds trust between the charity and its best donors. In fact, endowments can be a key piece to the financial stability puzzle along with major giving.
Barry Spencer learned the latest in challenges around ensuring long-term non-profit funding from industry veteran Jack Miller, whose planned giving program when he was at The United Way of Allegheny County, Pittsburgh received United Way of America's Lasting Legacy Award as the best planned giving program in the country. This program is based upon The Donor Motivation Program system.
Jack Miller reminded The Donor Motivation consultants it is the work of planned giving that is changing lives, families and communities. Specifically, the Donor Motivation Program approach to planned giving is taking the often confusing subject of planned giving and providing a plain language approach so donors can take the beneficial actions that redirect tax dollars to family and causes that matter deeply to the donor.
The core techniques of effective planned giving include building trust with donors, providing donors with expertise and resources to solve their individual needs and challenges, and interacting face-to-face with donors when sharing how their contribution can make an enormous difference. When implemented effectively, charities can build endowments and planned giving to solve their financial struggles and at the same time address donor personal concerns.
Barry Spencer is a licensed and trained Donor Motivation professional in Georgia with a passion to help more donors have a bigger impact with their lives and through the causes that matter to them most. His driving motivation is for his speaking, writing and Donor Motivation Program work to redirect One Billion Dollars of tax dollars to charities.
To get the very latest research on the seven critical trends impacting fundraising efforts by going to http://www.motivategenerosity.com/planned-giving.
To learn more about The Donor Motivation Program, visit http://www.donormotivationgeorgia.com.
##
About Barry Spencer: Barry Spencer is a nationally recognized author, speaker, creator of Wealth With No Regrets, planned giving consultant, and licensed and trained Donor Motivation Program professional. His latest book is, Giving Transforms You! Using his extensive experience in the challenges and concerns that development professionals face he shows leading charities in Georgia how to double their planned giving efforts with limited time and money.