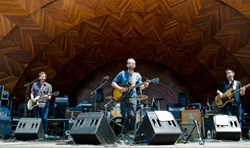 "Keenly driven, 1960s – 1970s rock furnished with hints of blues pop and Americana of the present day." ~ Americana-UK
Burlington, VT (PRWEB) August 29, 2014
The Naked Stills released its debut full length album Cochecho in November 2012 to a sold out Hard Rock Cafe in Boston, Massachusetts. Now you can catch them live at Nectar's tonight with local talent Kat Wright and the Indomitable Soul Band.
The Naked Stills perform live at Nectar's
with Kat Wright and the Indomitable Soul Band
Nectar's
188 Main St, Burlington, VT 05401
(802) 658-4771
9PM, 21+, $5
Founded in early 2009 by vocalist and rhythm guitarist Rocco DeRosa and guitarist/multi-instrumentalist Daniel King, The Naked Stills was born out of their mutual love for the pioneering folk, blues, and rock movements of the '60s and '70s. The two began writing material together and performing at local bars and clubs in the Boston area, when drummer Doug Standley was introduced to the duo at an open mic and instantly found a connection with their sound. Shortly thereafter, fellow Massachusetts native and bassist Ryan Callahan joined the band, completing their current lineup. With a budding and impressive resume of shows played in New York City and Boston, and winning a slot on WBOS' Earthfest, the Naked Stills are already making themselves heard all over the northeast.
Kat Wright & The Indomitable Soul Band have earned a reputation in Burlington, VT for packing every house they play and always sending people out feeling better than when they walked in. With their first EP in hand (Introducing…), their quest is breaking new ground and they're aiming right for you.
You can learn more about The Naked Stills at http://www.thenakedstills.com
If you have any questions, comments or would like to set up an interview please contact Melissa Zeigler: melissa(at)powderfingerpromo(dot)com