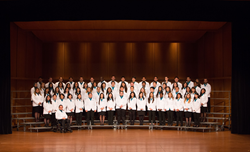 'I want my kids to know that education is very important and that you have to work hard to reach your goals. Even though it will be difficult over the next four years, in the end it's worth it.'
Claremont, Calif. (PRWEB) August 27, 2014
Seventy-three members of the founding class of the KGI School of Pharmacy (SoP) celebrated the beginning of their careers as healthcare professionals at a traditional White Coat Ceremony on Saturday, August 23. Students entering a four-year PharmD program traditionally receive white coats―a symbol of clinical service and care ―to welcome them into the profession as colleagues dedicated to patient care. At the beginning of the ceremony held at the Garrison Theater in Claremont, Calif., KGI President Sheldon Schuster welcomed the Class of 2018 into the profession and into the KGI community.
"This is an incredible day both for our students who have worked so hard to get here and for the KGI faculty, staff and board members who have devoted their time, energy and resources to creating this new school. Founding a new school is a tremendous undertaking but creating a truly innovative program in a rapidly changing field such as pharmacy is doubly challenging," President Schuster said.
In addition to President Schuster, speakers included Dr. Kathy Webster, dean of the School of Pharmacy; Robert Curry, chairman of the KGI Board of Trustees; Dr. Dan Bradbury, KGI trustee and former CEO of Amylin Pharmaceuticals; Dr. Kathy Besinque, president of the Board of Trustees of the California Pharmacists Association; and Dr. Travis Paytner, district manager of Walgreen's Stores in Southern California. Walgreen's generously provided sponsorship in support of the ceremony. Dr. Arcelia M. Johnson-Fannin, founding dean, Feik School of Pharmacy at University of the Incarnate Word was the keynote speaker.
State Sen. Ed Hernandez (D-West Covina) also spoke briefly and congratulated the students for entering an exciting profession with increasing opportunities and responsibilities. Sen. Hernandez worked closely with The California Pharmacists Association and the California Society of Health Systems Pharmacists to craft successful legislation, SB 493, which broadens the scope of practice for pharmacists.
After being formally cloaked with their white coats by faculty from the School of Pharmacy or a pharmacist parent, the students recited a pledge to adhere to the set of rigid ethical standards demanded by anyone entering the profession of pharmacy.
Among those receiving a white coat was Juan Silva, a former U.S. Marine and father of three. Silva says he hopes to be able to utilize his education as a pharmacist to "improve healthcare outcomes" in his own Hispanic community.
"I want my kids to know that education is very important and that you have to work hard to reach your goals. Even though it will be difficult over the next four years, in the end it's worth it," Silva said.
###
Founded in 1997, Keck Graduate Institute (KGI) is the seventh and newest member of the Claremont Colleges consortium. Its mission is to further education and research aimed at translating into practice, for the benefit of society, the power and potential of the life sciences.