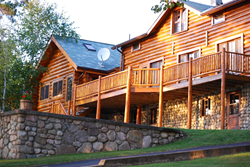 PIGEON FORGE, TN (PRWEB) August 28, 2014
There's no way to experience the beauty and ambiance of the Great Smoky Mountains like you can from a mountainside cabin rental. From rustic backwoods hideaways to luxurious foothills estates, renting a Smoky Mountain cabin offers vacationers a peaceful way to dive in to the East Tennessee experience and make the most of their time in the mountains.
For the most part, packing for a vacation in a Smoky Mountain cabin is simple. According to PigeonForge.com owner Jessica Bookstaff Doppelt, most Smoky Mountain cabins are fully furnished. That means you'll find the linens and towels you'll need for your stay, along with basic kitchen equipment and utensils. Many cabin rental companies take things a step further and also provide you with a starter pack of paper goods; including items like toilet paper, trash bags, paper towels and napkins, along with hotel-sized bars of soap and shampoo.
While the starter kit provides some basics, chances are that you'll need backups during your cabin stay. Doppelt and PigeonForge.com recently polled Facebook users to come up with a basic packing list you can pull out when you're planning a Smoky Mountain vacation in a rented cabin.
Here are a few suggestions of items you'll likely need for a vacation in a Smoky Mountain cabin.
In most cases, the only personal care items you'll find in your cabin are bath tissue and a bar or two of hotel-sized soap in each bathroom. It might be wise to bring an extra pack of T.P. for your stay, along with your regular toiletries. Additionally, essentials like hair dryers and curling irons generally aren't provided, so you might want to pack those as well.
It's also wise to think about your surroundings when packing your personal items. For example, if you've rented a cabin with a Jacuzzi suite consider packing a small bottle of bubble bath or even bath crystals for an even more luxurious experience. If you plan to spend a lot of time exploring in the Great Smoky Mountains, sunscreen and bug spray are also essential.
When you arrive, you should find that your cabin rental's kitchen has the essentials: Pots, pans, basic appliances including a coffee maker, basic flatware and cutlery. If you plan on doing a lot of cooking in your cabin, think about other items you'll need to put your meals together. Sharp knives, serving plates, wine glasses or other specific glassware and other items you might take for granted in your own kitchen might not be there. Same goes for salt and pepper, coffee filters and other standard items.
If your cabin is equipped with a grill, you will likely be responsible for supplies like charcoal and matches. Check with your rental company about these items.
Additionally, your cabin should be spotless when you check in and will be cleaned with you check out. That means basic cleaning supplies that you'll need to tidy up after meals might be missing.
WHAT TO PACK:
Corkscrew and wine glasses
Coffee filters and ground coffee
Sharp knives
Counter spray
Paper towels
Tupperware/Ziploc bags for saving any leftovers
Trash bags
Grilling supplies
Dish soap and sponge
Bagged ice
Entertainment
Unless you've selected really rustic accommodations, your Smoky Mountain cabin rental will likely have a TV and a DVD player. Some cabins are even equipped with video game systems or stereos. If you plan on taking advantage of these entertainment options, plan to bring your own movies, games or music.
If you're traveling with a group, it might be a good idea to bring a few board or card games along to have fun during your stay. Other items might include movies, board games or a deck of cards.
By packing smart, you can make the most of your Smoky Mountain cabin rental and make memories that will last for the rest of your life.
###
About PigeonForge.com:
Jessica Bookstaff Doppelt has helped thousands of people plan Smoky Mountain vacations since she launched PigeonForge.com in 2000. She grew up in Pigeon Forge and consider the Great Smoky Mountains her home. She is happy to share all the great things about the area and help you enjoy a perfect getaway through her website where you can easily browse lodging, attractions, restaurants, wedding information and more. For additional information, visit http://www.PigeonForge.com or follow PigeonForge.com on Facebook and Twitter.