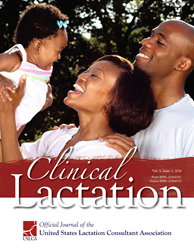 Community organizations within the African American community are increasing breastfeeding rates and saving babies' lives.
Amarillo, TX (PRWEB) August 28, 2014
In the U.S., the rate of infant mortality for African Americans is more than twice that of what it is for white infants. The good news is that breastfeeding is lowering the disparity between Black and white infants.
In 2013, the Centers for Disease Control and Prevention reported a drop in infant mortality due to to the increased rates of breastfeeding among Black mothers. This increase is due largely to efforts of grassroots organizations within the African American community.
In honor of Black Breastfeeding Week, the current issue of Clinical Lactation describes this disparity and the work of community organizations to address it. The gap between mortality rates for Black vs. White Infants narrowed for the first time in over a decade. The current issue of highlights the work of these organizations and the work that they are doing. This issue also describes that recent Lactation Summit that was held following the International Lactation Consultant Association conference in Phoenix, Arizona. The purpose of the Summit was to address barriers to women of color becoming International Board Certified Lactation Consultants (IBCLC), professionals who work directly with breastfeeding mothers.
Among the organizations highlighted are Sherry Payne and Uzazi Village; Jeanine Valrie Logan and Jeanine Sangodele-Ayoka and Free to Breastfeed; Kathi Barber, founder of the African American Breastfeeding Coalition; Kiddada Green and the Black Mothers' Breastfeeding Association; Kimarie Bugg and Reaching Our Sisters Everywhere (ROSE); Monique Sims-Harper and A More Excellent Way; and Elita Kalma, founder of the blog, Blacktating.
Clinical Lactation Editor-in-Chief, Dr. Kathleen Kendall-Tackett, stated that the goal of the special issue was to talk about the health disparity, but to also highlight the amazing work of these community organizations. "The drop in the rate of infant mortality due to breastfeeding was an incredibly hopeful sign. These organizations made that happen. I wanted to let people know about them and give them the honor they are due. We also wanted to do something that would celebrate Black Breastfeeding Week. There's a lot to be excited about. The special issue is freely available online. I hope people will download it and learn more."
Clinical Lactation is the official journal of the U.S. Lactation Consultant Association. This issue is available online at http://www.ClinicalLactation.org.
Dr. Kathleen Kendall-Tackett is Editor-in-Chief of Clinical Lactation and owner of Praeclarus Press, a small press specializing in women's health. It is based in Amarillo, Texas.