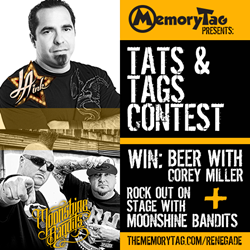 Those interested in winning should act quickly.
Woodbridge, CA (PRWEB) August 28, 2014
MemoryTag is on a mission to change how people send and receive greeting cards. They continue to spread the word amidst popular social media contests. Each day, prizes are awarded from MemoryTag's Instagram, Facebook, and other social media with rewards that range from gift cards to movie tickets to weekend getaways.
In addition, MemoryTag sponsors an impressive mix of sports and music celebrities, including well known MMA/UFC Fighters, Nonpoint and Digital Summer, all of whom utilize MemoryTag technology to reach their fan base. Country Hip-Hop band, Moonshine Bandits, has proven one of MemoryTag's more enthusiastic partners. It is no surprise that they play a central role in the next big sweepstakes.
MemoryTag has launched a "Tats and Tags" sweepstakes that awards the winner with VIP access to the upcoming Renegade Rendezvous Bike Show and Tattoo Expo in Dixon, CA. While there, the winner gets to toss back a cold one with LA Ink's Corey Miller and rock out on stage with Moonshine Bandits. In addition to celebrity experiences, the winner is also awarded with cash, t-shirts, a free tattoo session, and more!.
Those interested in winning should act quickly. The deadline for entry is September 8, 2014. For more information, visit thememorytag.com/renegade.
MemoryTag produces products that allow users to put custom videos on stickers, greeting cards, and other merchandise. Their social media outlets allow followers to participate in daily contests and events that result in exciting prizes. The MemoryTag app is available for free on both iTunes and Google Play.
For other exciting MemoryTag contests, follow MemoryTag social media on Facebook, Instagram, Twitter, Google+, YouTube, and Pinterest. For information on MemoryTag Video products, visit them at theMemoryTag.com.