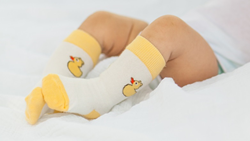 After trying Cheski socks, I re-tried other socks I already had. There is NO comparison. Within minutes the other socks had slid off! I would very much recommend Cheski socks!" - Julie Hart
San Francisco, CA Las Vegas, NV (PRWEB) September 03, 2014
After 22 months of product development, the infant sock solution is here! Cheski Sock Company is proud to launch and debut their new infant sock design at the ABC Kids Expo in Las Vegas, NV Sept 7-10, 2014.
After founder Bethany Dioli's daughter was born, she saw problems with baby socks that needed solving. Cheski Sock Company, LLC is an exciting and innovative new infant sock company headquartered in San Francisco. Bethany, with the help of her long time friend and business partner Jacky Lee, set out to create a baby sock with a number of design goals in mind. They saw a need for an infant sock that won't be kicked off or slide off of babies' feet. They also wanted to create a sock that keeps babies' shins warm and protected from riding pant legs. After 5 rounds of prototypes and lots of testing, the long anticipated launch is finally here.
Cheski Socks Features:

socks stay put on babies kicking legs
wont slide down baby's feet
socks keep shins warm from riding pant legs
fit through multiple washes
best in quality manufacturing
patent pending design
Cheski Socks are available for sale at http://www.cheskisockcompany.com/#!shop/cjwu.