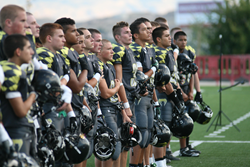 Our main concern is that they are emotionally healthy, Sports is a second priority.
Sandy, UT (PRWEB) September 02, 2014
For members of the Diamondback football team, a successful 2014 season isn't the only accomplishment they have to look forward to in the near future. As they excel in the athletic program by refining talent and skill on the field, they're also developing important life skills that will help them discover greater success off the field. The athletic program is part of Diamond Ranch Academy (DRA), a youth treatment center for teens. The Academy works to enrich the lives of struggling teens by providing the life skills and academic training necessary for success. Students set solid behaviors and academic habits that contribute to achievements in their high school careers then reach above and beyond to include all future endeavors. Football at DRA is a highly effective therapeutic program that helps the center's teen boys learn to receive instruction and take responsibility while working with a team to achieve a common goal.
"Our main concern is that they are emotionally healthy," says head football coach Rob Dias. "Sports is a secondary priority."
The team's 2014 quarter back, Noah Courtney, adds, "Football impacts everything. Since I started football here, my commitment to everything has become better."
Diamondback Football
The Diamondback football program has received recognition on local and national levels for their excellent local performance, unique team model, and state-of-the-art turf playing field. The team earned the champion title at the 2012 regional competition and continues to show promise as a leading contender in Utah's 1A high school football division. While the team's player turnover rate tends to be higher due to the ever-changing nature of therapeutic boarding schools, their bond is unrivaled by any other football team in the state as they learn, grow, and live together on the DRA campus. The 2014 Diamond Ranch Academy football team is currently prepping for this year's season. For more information, visit the program's website.
Therapeutic Programs at DRA
While a solid academic base provides students with the technical skill necessary for continued education and practical career efforts, the Academy's art and athletic programs allow students to develop and refine skills in leadership, teamwork, and self-expression. These therapeutic programs help Diamond Ranch Academy achieve their goal of a well-rounded education for every student. No matter the child's unique interests and future goals, DRA works to offer a therapeutic program to help them learn and grow in the most effective way possible.
About Diamond Ranch Academy
Diamond Ranch Academy is a leading residential treatment center located in Hurricane, Utah. The academy offers help for struggling teens, ages 12-18. DRA has separate, individually licensed programs divided by age and gender. These programs are held on the DRA campus - located on 60 acres of Utah's gorgeous terrain. Please visit the Academy's website for more information.