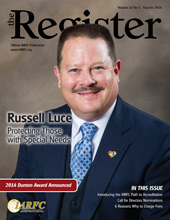 Set your goal on a daily basis to make a difference in one life and you will be successful in your heart and in our industry...Russell Luce, RFC
Middletown, OH (PRWEB) August 27, 2014
To start on his career journey, Russell Luce, RFC had a different background than most financial professionals – working with law enforcement with a background as a military police officer. After a suggestion from his pastor, he found himself applying for a career in insurance investment. He ultimately ended up with Foresters Insurance Services and Allegiance Marketing Group. Both organizations give him and his staff of independent agents marketing, sales ideas and backroom support that is second-to-none. Because of his family of five children – two who face the daily challenges of Autism, he has insights and empathy of the daily concerns for a normal family and for one with special needs.
According to Luce, a special needs situation may be a family that has a child with Down's Syndrome or a child with a physical challenge such as Cerebral Palsy or Autism. "The planning needs are similar and different at the same time," advises Luce. "Similar being that there's a strong need for planning, different in that there are a lot more unknowns as far as the health of the family member and how that can change in the future."
People with special needs situations find him through networking and his involvement in the community. He is presently on the Professional Board for the Autism Society of Illinois and in the past has worked with Autism Speaks. "We experience a lot of traffic on our website http://www.planninglegacies.com and are in the process of thinking of additional ways to get the message out about the importance of a financial advisor," says Luce. "It is so important to make sure children or adults with challenges whether they be mental or physical are taken care of in a proper and dignified way – following the wishes of their families."
For financial advisors, dealing with the financial plan and the emotional aspect that is atypical of the normal family is challenging. Usually an advisor works with a client to plan their financial future as their children will take care of planning their own. In special needs situations, the advisor plans for both the client and the long-term future of their children. "We plan for all those variables and work through setting up what our clients want their family legacy to be," says Luce. "I am a firm believer that our families always feel better knowing they have somebody taking the journey with them to ensure that their future is bright."
To read the entire article go to the http://www.iarfc.org and look at the September issue of the Register. If you have any questions email the IARFC at info@iarfc.org.