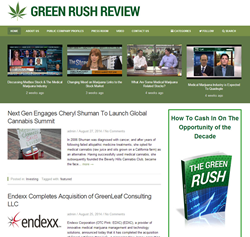 Through video, companies are able to educate potential investors of the feasibility of their business models, and thus generate confidence among investors.
San Franisco, CA (PRWEB) August 28, 2014
GreenRushReview.com, a website dedicated to the emerging marijuana business sector recently launched a "Video" section located at http://www.greenrushreview.com/category/videos/, which contains relevant news and general information on various cannabis companies in video format. In the site's "Video" section, individuals can find an assortment of news clips, interviews, and other short videos discussing significant marijuana-related issues and announcements. A portion of the videos can also be found on the site's homepage.
GreenRushReview.com also announced that it will offer a video interview and promotion service to cannabis companies across North America who are looking for more exposure. The service includes a featured interview with the cannabis company CEO, management or an official representative. The interview is recorded and then goes to the GreenRushReview.com editing team for production.
The finished video is them given prominent placement on GreenRushReview.com as well as syndicated via a video embed to hundreds of other media sources including Google News, Yahoo News, FOX, CBS and ABC network affiliates, along with other promotional strategies.
Through an interview video, companies are able to educate potential investors of the feasibility of their business models, and thus generate confidence among investors and the general public so they can make smart, informed decisions.
Earlier this month GreenRushReview.com announced it's "Company Profiles" section that contains profiles of the various cannabis-related companies in the industry. By selecting a company's name, a site visitor will be able to view a more detailed background, and also have access to the latest financial news on that particular company.
The coining of the term "Green Rush" refers to the swift surge of activity brought about by the legalization of medical marijuana in over 23 states, and the acceptance of comprehensive cannabis and medical marijuana programs. Last year, Colorado and Washington legalized the use of recreational marijuana, and also allowed for the sale and taxation of the substance. The District of Columbia, on the other hand, has decriminalized possession of marijuana in small amounts - provided that smoking the substance is only done inside a person's home.
As several other states are still currently creating their own versions of marijuana-related legislation, laws throughout the country will continue to be rewritten over the next months and years, and the marijuana market will continue to develop.
The group behind GreenRushReview.com also owns a portfolio of cannabis related websites and has adding video sections to them as well at http://www.bestmedicalmarijuanastocks.com/category/videos/ (top medical marijuana company news), http://www.marijuanastocksreport.com/category/videos/ (cannabis small cap stock news) & http://www.marijuanastock.net/category/videos/ (general public medical marijuana company news).
GreenRushReview.com strives to be a convenient and reliable online resource for the emerging marijuana business sector. The website aims to provide visitors with extensive coverage on features, news, and opinions on the forecasted multi-billion marijuana industry and culture in North America, including industry stock news, laws and regulations, trend developments, and other cannabis business news and legislation.
Cannabis companies seeking to be added to the company profiles section, add their press releases on any one (or all) of the Green Rush websites, and/or gain exposure via a video interview can contact editorial(at)greenrushreview(dot)com for more information.