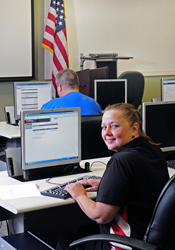 Charleston, W.Va. (PRWEB) August 27, 2014
Today's global economy depends on an educated, skilled and versatile workforce. West Virginia is developing a national reputation for its training programs and workers who are committed to getting the job done. West Virginia's employee turnover among all industries is 8.8 percent compared to a national average of 9.1 percent. In addition, West Virginia is tied with North Carolina for the fifth lowest turnover rate among manufacturing industries, with a rate of 5 percent, compared to a national average of 6.1 percent. National benchmark studies show that our workforce is among the most productive in the nation. The state's training programs are structured so that they help both employees and business owners get in the best possible position to succeed.
On-the-Job Training
On-the-Job Training (OJT) provides unique opportunities for participants to "learn as they earn." By participating in training as an employee, the participant not only acquires new skills and knowledge, but also receives the same wages and benefits as current employees in same or similar positions. The employer benefits by being reimbursed for part of the participant's wages during the training period, while having the services of a full-time employee.
Teaming with CTCs
Companies such as Macy's are taking advantage of West Virginia's training opportunities for its workforce. Macy's, which has a fulfillment center in Martinsburg, teams with Blue Ridge Community and Technical College to offer training to employees of the center. Toyota and BridgeValley Community and Technical College partner in a program called "Advanced Manufacturing Technician," or AMT. This education-to-work program gives students hands-on experience in manufacturing while they earn a two-year degree.
WorkKeys
WorkKeys® is a job skills assessment system measuring "real world" skills that employers believe are critical to job success. These skills are valuable for any occupation and at any level of education. When potential employees use WorkKeys® to show they are ready to work, they have an advantage with employers who accept or require job applicants to have WorkKeys®.
The Career Readiness Certificate is a nationally-recognized credential that is composed of three WorkKeys® assessments that measure skills critical to on-the-job success: Reading for Information, Applied Mathematics, and Locating Information. In West Virginia, the Governor will issue Career Readiness Certificates to job seekers who demonstrate their job readiness levels in these three basic areas. The certificate provides proof of job skills, and offers access to higher-paying jobs.
Governor's Guaranteed Work Force Program
The Governor's Guaranteed Work Force Program provides new and expanding businesses with technical and financial assistance to train, retrain or upgrade the skills of their employees. The program emphasizes employee training specifically designed to accommodate the needs of individual employers. To achieve this, the Governor's Guaranteed Work Force Program works closely with education and industry to provide the most advanced knowledge possible to West Virginia's employees.