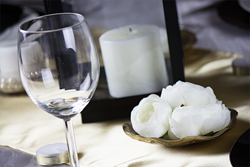 Tigard, OR (PRWEB) August 28, 2014
LinenTablecloth, an online retailer specializing in event linens and wedding decor will be hosting an inspiration event open to the public. The event will be an opportunity to network with wedding/event industry professionals, view wedding inspiration tablescapes, and even enter a tablescape raffle.
LinenTablecloth is welcoming event planners, brides to be, photographers and anyone else interested in the industry to come be a part of this exciting event. By attending, guests will see behind the scenes of a massive content photoshoot. A variety of tablescape themes will be set up under an outdoor tent where visitors will be able to walk through seeing all the displays. The tablescape designs will cover everything trendy within the industry right now, from classic vintage to rustic chic. A raffle will take place allowing ten lucky guests to take home a free tablescape display.
Many of the items being showcased are new products that are set to launch at linentablecloth.com. The e-retailer will be introducing a new glassware line including vases, apothecary jars, and terrariums. Other new products displayed will include wood products, parasols, burlap and lace items, and massive sized balloons.
The event will take place on September 6th at 20100 Johnson Rd. West Linn, OR 97068. Visitors are able to stop by anytime between 10am-2pm to view the tablescapes. If you would like to attend, please make sure to RSVP here.
About LinenTablecloth:
LinenTablecloth, a Berrett Brothers Inc. company, is the leading online retailer of tablecloths, chair covers, and other table linen products. The company owns a manufacturing facility located outside of Shanghai, China where product quality and consistency is carefully monitored. They aim to produce elegant yet affordable items.
Since 2005, LinenTablecloth has been the preferred online linen shopping site of brides, wedding planners, party planners, and event coordinators in the United States and Canada due to its affordable hotel and restaurant quality linens. The Oregon-based company is known for its excellent customer service, fast shipping and customer-friendly return policy. LinenTablecloth provides telephone support through its toll-free hotline: (877) 835-5617. Its online storefront, http://www.LinenTablecloth.com, offers a wide selection of linens for homes, special events, hospitality and service industries.
For more details contact marketing(at)linentablecloth(dot)com.
http://www.linentablecloth.com | @linentableclth