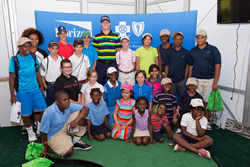 We're extremely proud of how Morgan performed on the course and even more inspired by his willingness to give back to the game and support the children who participate in the New Jersey Golf Foundation's programs
Neward, NJ (PRWEB) August 27, 2014
New Jersey's own Morgan Hoffmann turned in a spectacular top-10 finish at The Ridgewood County Club during The Barclays – and thanks to finishing high on the leader board in each of the tournament's four rounds, stepped his way into raising another $7,500 for charity through the Horizon Blue Cross Blue Shield of New Jersey (Horizon BCBNSNJ) Walking Challenge.
Last Tuesday, Horizon BCBSNJ challenged Hoffmann, a Wyckoff native playing before family and friends at the Paramus course, to wear a Fitbit and rack up as many steps as possible while competing in The Barclays. The challenge came on the same day Horizon announced that it was making a $5,000 donation to the New Jersey Golf Foundation, so the company promised to add another $1,000 for every 10,000 steps Hoffmann logged during The Barclays.
Over four days of competition, Hoffmann recorded more than 75,000 steps, en route to a final score of 275, which was nine under par and good for a tie for ninth place. When translated into dollars, the steps reached $7,500 charitable contribution, bringing Horizon's total donation to the New Jersey Golf Foundation to $12,500.
Hoffmann took time from his busy golf week to join Horizon BCBSNJ at the Horizon Health and Wellness Expo at Ridgewood to sign autographs, give golf tips to children and present the initial $5,000 donation to the New Jersey Golf Foundation.
"We're extremely proud of how Morgan performed on the course and even more inspired by his willingness to give back to the game and support the children who participate in the New Jersey Golf Foundation's programs," said Jonathan R. Pearson, Director of Corporate Philanthropy and Community Affairs for Horizon BCBSNJ.
"We want to thank The Horizon Foundation for New Jersey for its generous donation and continued support in helping us bring the game of golf to young golfers who may someday follow in Morgan's footsteps and represent New Jersey in future PGA TOUR events," said Chris Hunt, Executive Director of the New Jersey Golf Foundation.
Through the PGA TOUR's charitable efforts, millions of dollars each year go back to communities where tour events like The Barclays are played, benefitting nearly 3,000 charities and countless individuals worldwide. In fact, the PGA TOUR recently celebrated crossing the $2 billion mark in charitable giving since the organization was founded.
As Health Care sponsor of The Barclays, Horizon BCBSNJ also prodded spectators to get into the walking spirit. Fans who came through Horizon BCBSNJ Health and Wellness Expo at The Barclays were challenged to walk to five points on the course – covering about two miles -- and to get a walking passport stamped. Those walkers who completed the challenge were entered into a special sweepstakes in which five Fitbits were awarded each day of the tournament.