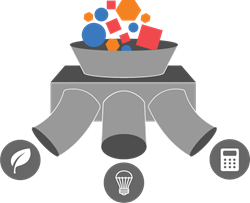 Energy is expensive, and it represents a major portion of budgets for large companies and their respective departments. Like any major expense, energy use must be understood before it can be managed and reduced.
Atlanta, GA (PRWEB) August 28, 2014
Urjanet - the world's first provider of big energy data – will offer a complimentary webinar, "The New Consumers of Utility Data" on Wednesday, Sept. 10 at 2 p.m. EST. Webinar registrants will hear from expert panelists representing leading corporations and energy management firms on how big data is becoming a must-have for multiple departments within an organization to achieve their distinct goals.
"Gone are the days when accounting teams were the only ones interested in utility bill data," said Urjanet's CEO Sanjoy Malik. "Now, more than ever before, a growing list of departments rely on high quality energy data to improve sustainability, reduce energy consumption, and improve financial performance, among many other reasons."
By attending this webinar, participants will learn:

Why the demand for energy data is crossing organizational boundaries
How various departments use energy data to achieve goals
Examples of the value automated energy data delivers to unique departments
Webinar panelists include subject matter experts from Cox Enterprises, NetApp, Powerhouse Dynamics, and Verdantix:
Brian Glazebrook – NetApp, Senior Global Sustainability Manager
Brian has been involved with social and environmental issues for over 18 years. His role at NetApp is to work with organizations throughout the company to create a cohesive sustainability message and program, rolling out global energy targets, developing a waste management strategy and driving sustainable product design initiatives.
Jason Roeder – Powerhouse Dynamics, Director of Energy Products & Services
Jason is responsible for leading the continued evolution of the SiteSage platform. Jason has a deep background in energy management and energy efficiency across large enterprises and has lead PhD's successful implementation across many food service concepts.
Kevin Sok – Cox Enterprises, Manager of Engineering & Sustainability
Kevin has more than 17 years of extensive experience in the energy and engineering industry. His role entails developing and executing strategies to generate energy from renewable sources, energy management, evaluation and deployment of clean technologies, and environmental analytics.
Alisdair McDougall – Verdantix, Research Analyst
Alisdair is an Industry Analyst in the Energy Practice at Verdantix's London office. In this role he leads Verdantix research on energy management software and industrial technologies. His previous experience includes working for the energy and sustainability team at Peter Brett Associates, a development and infrastructure consultancy.
All webinar registrants will receive a recording of the session, plus a copy of the presentation slides. Click here to register now for "The New Consumers of Utility Data".
ABOUT URJANET
Urjanet is the world's first provider of automated big energy data that enables organizations across all industries to make smarter, more profitable and eco-friendly energy decisions. Urjanet's data products help companies and governments improve financial performance, energy efficiency and sustainability by delivering energy data directly to their business intelligence, energy management, accounting and procurement systems. Environmental Leader recognized Urjanet as a Top Product of the Year for 2014. For more information, visit http://www.urjanet.com.